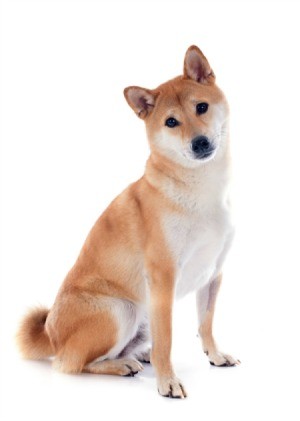 The Shiba Inu dog breed originally hailed from Japan, and still remains the most popular breed in that country today. They were originally bred to flush out small game, hunt birds, and occasionally wild boar. Today they are classified by the American Kennel Club as members of the non-sporting group (no longer bred to perform their original function), and are kept almost exclusively as pets.
Quick facts about Shiba Inu
Area of Origin:
Japan; one of the few ancient dog breeds still in existence today.
Original Function:
Hunting and flushing small game.
Overall Appearance:
Similar to the Akita, though much smaller in stature.
Coat:
Shiba Inu have double coats. The outer coat is stiff and straight, and of short to medium length. The undercoat is soft and thick. The hair on the tail is longer and brush-like.
Color:
This breed comes in red, black and tan, sesame (red with black-tipped hairs), or white/cream. (Although acceptable in Britain, the white/cream color is considered a major fault in American show dogs.)
Height:
Males are 14.5 to 16.5 inches tall. Females are 13.5 to 15.5 tall.
Weight:
Males average 23 pounds. Females average 17 pounds.
An Ancient History
Ancient artifacts suggest that the Shiba Inu may have been used as early as 300 B.C. as a hunting dog in the dense, brushy undergrowth of Japan's mountainous regions. Although there is some debate in regards to the true origin of their name, it is thought that Shiba may denote small, (The Shiba is the smallest of the Inu dogs native to Japan), or it may mean brushwood, referring to the brilliant red brushwood trees in which they hunted. Another theory is that the fiery red color of the Shiba is the same as the intense autumn color of the brushwood leaves. Today, with all theories combined, the Shiba is sometimes still referred to as the little brushwood dog.
Originally there were three main varieties of Shiba: the Shunshu Shibu, the Mino Shiba, and the Sanin Shiba, each named for its region of origin. Although similar, the Shibas from each area contributed to differences in the breed types seen today. From the original Japanese native dogs, six distinct breeds, in three different sizes developed:
Large size: The Akita
Medium size: The Kishu, Hokkaido, Shikoku, and Kai
Small size: The Shiba
The Shiba breed was nearly wiped out by World War II bombing raids, and their numbers were reduced even further by a distemper outbreak in 1952. To save the Shiba Inu from extinction, the remaining dogs were taken from remote parts of the country, and all three Shiba types were interbred. The result of that breeding program is the Shiba Inu breed you see today.
Bold in Spirit
Shiba are independent, headstrong, and brimming with self-confidence. Some tend to be domineering, and they may be aggressive with strange dogs. They are loyal and affectionate with those who have earned their respect, but may be territorial and reserved with strangers. One distinguishing vocal characteristic of this breed is the Shiba scream. This high pitched noise may signal one of two things: unhappiness, for example, when they dislike how they are being handled. Or great joy, like when their owner returns home after an extended period of absence.
Known for their Cleanliness
This breed is known for its cat-like fastidiousness. Shiba can often be seen licking their paws and maintaining their coats. Due to their clean nature, they are easily housetrained as puppies. Shiba Inu need a vigorous game, a long walk, or a good run every day to channel their intense energy. Their double coat needs brushing one or two times weekly, and daily during seasonal shedding.
Health Concerns
Overall, Shiba Inu are considered quite vigorous and genetically sound compared to other dog breeds. They have an average lifespan of 12 to 15 years. Health conditions considered to be of concern to the breed include patellar luxation, allergies, cataracts, glaucoma, entropion, and hip dysplasia.