Out of all the seasons of the year, I love Fall the best! It last the longest. I start decorating on September first and it brings me right through until I decorate for Christmas, by just adding a few things for Halloween and Thanksgiving. It is truly a beautiful season to decorate for.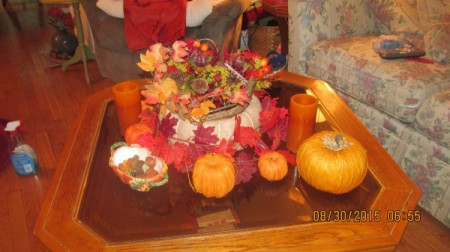 All you need is to find decorations from inexpensive places like Michael's Craft Stores or The Christmas Tree Shop or Dollar Stores and you can begin to start a nice collection and add to it each year.
For Halloween, I add more pumpkins, Jack-o-lanterns, candles, Ghosts, etc. For Thanksgiving, I add a Wicker Turkey for my center piece and two small turkeys. A Cornicopia filled with artificial fruit and Pilgrim Dolls. These I will post then.