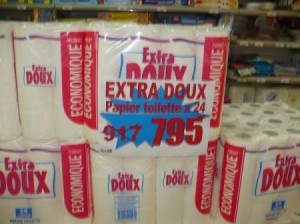 Living in Tahiti can be a bit costly when it comes to buying food, household cleaners, paper goods, shampoo and toothpaste. However, I have found a way to save money each year by buying in bulk quantity. Now and then the stores on the island will run a monthly special. When I find a deal on shampoo, toothpaste, laundry soap, and other items that can be easily stored, I stock up.
What can you do? Here are a few helpful tips on how you can save money each week at the grocery store.
There is a way to control the price you pay for food, household paper goods, laundry soaps, and cleaners. By buying in bulk quantity and finding the best possible prices we can keep the price increases from impacting our personal finances. Items we use everyday can be bought in bulk quantity and stored at home.

Save Money on Items You Use Most
Prepare some space in your home or garage for items bought in bulk that will not spoil. Buy three or four large storage bins to store rice, pasta, and grains bought in bulk. Make a list of items used in your home daily. Look in the newspaper for sale items or close out items that you use. Buying in large quantity saves money when stocking your home.

Cost Saving Items to Buy
Buy your pet food by the case instead of individual cans. Buying a case of pet food can save you 10%. Look for sales and close out prices and you save even more.
Buy your dry pet food in 20 pound sacks instead of the smaller sacks you normally buy. Buy your dried pet food on sale and you can save 15 to 25% more. Store the food in storage bins in your garage to keep it fresh and away from rodents.
When buying rice, buy a 20 pound bag instead of the 1 pound bags you normally buy. Rice sold in 20 pound bags save you 15 to 20% over the price of a 1 pound bag. Store the bag of rice in a storage container in your garage.
Buy toilet paper, paper towels, and napkins in bulk quantity. Look for sales on bulk quantities and stock up on these items.
Buy your canned tomato sauce, vegetables, and soups by the cases. Store the cans in your garage. By buying a case you save 15 to 20 cents on each can you buy. These items store well in your home or garage. Look for sales or go to warehouses, stores that sell in bulk quantity.
Buy your pasta, grains, and beans in bulk quantity. Store the unused bags in storage bins away from rodents.
When sugar and flour are on sale buy 6 to 8 sacks each. Store the unused bags in storage bins in your garage. Sugar and flour keep as long as you store them in airtight storage bins away from bugs and rodents.
Shop at warehouse stores offering bulk quantity items to buy your bath soaps, laundry soap, shampoos, and dishwashing soaps. Store the extra items in the garage. By buying large quantity of these items you save 20% over buying individual items in your grocery store.
When men's and women's socks go on sale buy a large quantity of each item. Store the unused items in your closet or storage bin in the garage.
Instead of buying household cleaners, buy vinegar, salt, and baking soda to clean your home. Buy these items in bulk quantity at warehouse stores. To add the fresh smell to your homemade cleaning products add some lemon or lime juice.
Stop buying scrubbing pads to clean your pots and pans. Invest in a good scrub brush that lasts for years. Youll be surprised how much money you save by not buying scrubbing pads to clean your dishes.
To save hundreds of dollars each year on items you buy weekly, buy in bulk quantity and stock up for two years. This takes careful planning and shopping around for items on sale and closeout prices. When you see a store going out of business, stock up on items you use most.