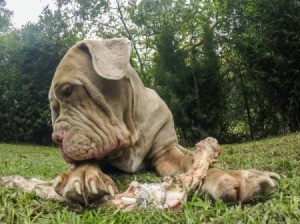 My Neapolitan Mastiff turned 5 months old. I've kept him on a vegetarian diet, as the climate in India is hot and humid in the summers. I feed him boiled carrot, beet root, spinach, chic peas, french beans, and parsley mixed with rice twice a day. Also, I feed him roasted semolina with milk, 1 banana, and 1 boiled egg at breakfast and curd rice in the afternoon. He is 27 kgs. (59 1/2 lbs.) and looks very skinny. I don't know if it's enough.
By ganesh marke from Mumbai, India
Answers

April 9, 2011
0

found this helpful
I'm not an expert, but I suspect the dog needs much more protein. Wild dogs wouldn't be eating all those vegetables, so it seems logical to me that a domesticated dog would need a lot of meat. I don't understand . . . why do heat and humidity affect giving him meat? Also, one of the archived comments below mentions the amount of fat in their diet. Based on what you've told us, this large dog is getting all his fat from just one egg yolk a day.
Have you done an internet search on neapolitan mastiff? Here is what I got.
www.google.com/search?q=neapolitan+mastiff&rls=com...
Please take a look. There are lots of websites, and I bet there is information and message boards with discussions about their diets. And it wouldn't hurt to consult with a veterinarian.
Like I said, I'm not an expert. It has been ages since I had a dog, but when I did they got a lot more protein than yours is getting (and they were smaller animals, too). Good luck with your dog!
Actually, dogs are carnivores. As far as the veggies are that's okay but he needs more protein. I don't know what is available in India but fish oil is good for them. I have fed my dogs sardines mixed in there food or omega 3 capsules once a day. I would leave the milk alone and mix the rice, veggies, chicken, liver or beef in your dog food. He needs more food then you are giving him. Is he on a parasite medicine? Check his stool for worms. You can buy Timberwolf organics lamb and venison. It is #1 and feed a 25 pound dog 4 cups per day.

April 10, 2011
0

found this helpful
Take him to a vet and have him checked out right away to see if he is healthy would be my best advice. Then take his or her advice on your breed of dog as to the best diet or check with your kennel club for advice.

Lizzyanny
Bronze Feedback Medal for All Time! 226 Feedbacks
April 11, 2011
0

found this helpful
The recomendations from AAFCO via my local vet recommend the following for a large breed puppy. 27% protein (meat, eggs, fish, cottage cheese). 1 to 2.5% calcium, 9 to 12% fat. The remainder should be energy food (carbohydrates and vegetable matter) Puppies under 6 months should be fed 3 times a day, what they will eat in 10 minutes. Over 6 months, puppies should be fed 2 times a day. The diet you are preparing is not supplying enough protein or fat.
You mentioned you restrict protein because the climate is hot. Restricting your puppies protein does not have a large impact on his body temperature, but could really hurt his growth and health. Dogs and cats cannot be vegeterians. You would need to find another way to keep him cool. It sounds like you work hard at caring for your puppy. It might be easier to feed a prepared dog food; or be sure to add more protein and fat to his diet. While he is growing so rapidly he may remain thin (thin, not emaciated) until he is a year or so old, and then he will fill out. Good luck with your puppy.

Linda L.
Bronze Tip Medal for All Time! 64 Tips
March 9, 2018
0

found this helpful
For heavens sake consult your vet. If u dont have one , get one. Your dog needs a primary care doc just as much as u do. You need to have basic care in place now, before your dog needs urgent care .
She is the one to consult about your dogs diet.
Answer

this Question
I have a 45 day old, honey colour, male, Neapolitan Mastiff. I would like to know how many times to feed it in a day and what should his diet consist of? What time should he be fed?
By K. B. Prasad
Answers

Sherri
Bronze Feedback Medal for All Time! 180 Feedbacks
February 10, 2013
0

found this helpful
Hello, Congrats on your new fur baby. Please call your veterinarian for an appointment. Your baby is over 6 weeks and needs to have his first set of vaccinations. Your Veterinarian will answer any questions you have about the feeding program for your baby. Mastiff's are large boned dogs and may require a special diet.
Have fun with your baby...
Answer

this Question

I have always loved this breed, the Neapolitan Mastiff. It's always been a dream of mine to have one and make him/her part of my family. I soon will be able to do so! My question is, "what is the best type of food I can get for my Mastiff?" I have 2 mini Schnauzers right now and I have them on grain free kibble from Merrick's. I also have read that it's not good to feed a Mastiff puppy, puppy kibble either. Anyone who is willing to give advice or recommend certain diets, please do so. I will greatly appreciate it. Thank you.
By Angie Nuez S. from Riverside, CA
Answer

this Question