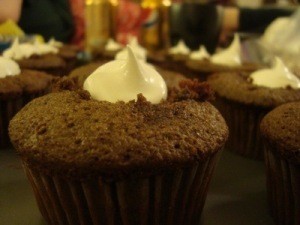 Remember those pre-packaged cupcakes that were sold in the grocery stores; 2 cupcakes in a package, filled with that delicious white cream, and topped with that lovely little swirl? Well, here's a recipe to make them at home!
There are 3 parts to this recipe, the cake, the filling, and the frosting. If you want, you could make the cupcakes ahead of time and store them in the fridge or under a cake dome for a day until you get around to making the filling and frosting but, be warned, these cupcakes will dry out fast.
Ingredients
Basic Chocolate Cake
1 1/4 cup sifted flour
1/4 cup Hershey's baking cocoa (DON'T EAT IT YET - my husband made that mistake)
1/8 tsp. baking soda
1/4 lb. butter or 1/2 cup of margarine
1 cup granulated sugar
1/2 cup firmly packed dark brown sugar (feel free to eat this)
1/2 tsp. vanilla extract
3 large eggs
1/2 cup sour cream (I used low fat and it tasted fine)
Fluffy White Frosting Filling:
This tastes very similar to marshmallows
1 1/2 cups powdered sugar
2 egg whites
1/3 cup water
1/4 tsp. cream of tartar OR 3/4 tsp. lemon juice
1 tsp. vanilla extract
Chocolate Butter Cream Frosting:
2 and 2/3 cups powdered sugar
3/4 cup Hershey's baking cocoa
6 Tbsp. butter
6 Tbsp. milk
1 tsp. vanilla
Directions:
Sift and stir together flour, cocoa and baking soda. Cream the butter, sugars, vanilla and sour cream. Beat in eggs. Add flour mixture in parts (to keep your mixer from blowing it all over your counters).
Place cupcake liners in cupcake pan (I find that paper liners are best). Consider leaving one cupcake hole unfilled so that you do not risk squishing a cupcake with your oven mitt when you pull them out to check for doneness. Fill 2/3 of the way and bake at 325 degrees F for 10 minutes; then check on them every five minutes after that until a toothpick in the biggest one comes out clean. These cupcakes will be VERY moist and perhaps not very big. Gently remove from cupcake pan (with the help of a butter knife or spoon if needed) and set on a plate or cooling rack.For the filling, separate your eggs. I use an egg separator but you could also just break the egg and gently slide the yolk from one broken shell to the other until all the egg white has separated. Do this in a separate bowl or cup as having any yolk at all in this recipe is not good. You can save the yolks for another recipe if you want but usually they are fine going down the drain with hot water. Stir in water and lemon juice (if using) and pour into a small saucepan over very low heat.
Slowly add in the flour (add cream of tartar here if you have it, but not if using lemon juice) and beat on low for 1 minute with a hand held mixer or until mixture reaches 160 degrees F with an instant read kitchen thermometer. This should take anywhere from 10- 15 minutes. Remove from heat and pour into a large bowl. Add vanilla and beat on high until stiff peaks form.
If using lemon juice, your peaks will not be as stiff as if you were using cream of tartar but it will still taste divine and you can stiffen it up a bit by adding more powdered sugar and beating on high until it reaches a consistency of your liking.
At this point, I let the frosting cool for a bit while I work on the cupcakes. By now, your cupcakes should have cooled. Using a sharp knife (I use a paring knife) or a apple corer, gently slice into the cupcakes. I attempt to make deep upside down cone shape. If it's not pretty, don't worry about it, it will be covered up by the frosting. Throw the scraps into a nearby bowl for later snacking with leftover filling and frosting. Brush off stray crumbs.
Now fill your piping bag with filling. I generally use a gallon size Ziploc bag with a corner snipped off. Stand you bag up in a small glass and use a scraper or a spoon to fill the bag with about half the frosting. Start your corner very small and squeeze some onto the side of the bowl, if it seems slow coming out or comes out in a thin stream, consider snipping a bit more off. Now pointing your bag at the very center of the cupcake, squeeze and swirl some until the hole is filled and the frosting is in a little dollop above the cupcake. Let this sit while you go make the frosting. If you still have frosting in your bag, squeeze the rest back into the bowl, you will need a smaller bag later anyway. Feel free to lick the frosting from the bag before tossing it in the trash.
Make the Chocolate Butter Frosting now. Unless you have another, you may want to move your fluffy white frosting from the large bowl it is in to a smaller bowl and wash the large one to use here. Sift together sugar and cocoa. Mix the butter and all but about a teaspoon of the milk. Add the cocoa and flour mixture in parts (to keep your counter tops clean, this will fly everywhere when using a hand mixer). Mix until smooth and creamy. Stir in vanilla. If you would like it even creamier add the rest of the milk, if you would like it a bit thicker, add a bit more sugar.
Going back to the cupcakes now, use a butter knife (or even your clean finger) to gently squish down the filling until the peaks are gone and they are more level with the top of the cupcakes. Now frost the cupcakes with the chocolate butter cream. You can use a scraper to do this or you could pipe the frosting. Fill the bag as before and starting from the center swirl the bag in circles leaving a connected stream of frosting all the way out to the edges. it might run over the sides a bit, and don't stress about it too much if it doesn't look smooth, the frosting will run and settle a bit leaving it more smooth on top after a few moments. Be sure however not to touch the filling, use a very gentle hand if using a scraper and never let your bag touch the cupcake. The whole point is to hide the frosting inside. There may be a small bump where the hardened filling is but don't worry about that, no one is perfect. Now, fill a smaller bag with the fluffy white filling and snip a tiny corner off (you only want a very thin stream) and make swirls on top the cupcake. You could make them to resemble the classic Hostess cupcakes or you could write words or just make abstract designs.
By Katrina from Baltimore, MD
Read More

Comments