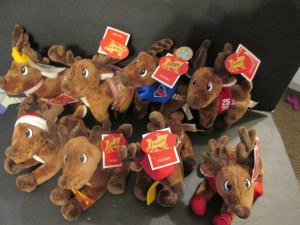 Hello again, Thrifty Fun users! I am in need of assistance once again! I know Christmas is over as of now but I was wondering where I could find this rare plush set of Santa's reindeer, made by the popular collectors brand, Dan-Dee. Here is some details about this rare set if anyone's wondering.
- This set was made in 2009 by Dan-dee Collectors Choice and was sold exclusively in CVS stores.
- This set includes all 8 of Santa's reindeer, known as: Dasher, Dancer, Prancer, Vixen, Comet, Cupid, Donner, and Blitzen.
- Rudolph The Red nosed Reindeer was also included in this set, but he was one of the rarest to get in this set. While Dan-dee is known for their Rudolph Plush toys that are sold annually during the holidays, even up to modern times, the rudolph that was included in this specific set is the only rudolph plush (at least to my knowledge) that has a fully grown set of antlers like the other 8 deer.
- These Plush toys are all the same size and length, and have special accessories and costumes that fit their personalities. (example: Dancer wearing a tutu/ballerina outfit)
- Each Individual plush have their own names embroidered on their side. Rudolph also had this feature.
Now here's my major question. Does anyone know where i can find this set? No, Rudolph doesn't have to be included, but it's okay of he is anyways. is it also possible you guys can assist me in finding this set at a reasonable price, at least under $100? I used to have this set when I was a child, but I never fully completed it and they were taken away when I was younger, never saw them again ever since. It would really be awesome if I can get this set back. Thanks for all the help. I really appreciate it.