My dog, Sugar, is in need of surgery for a malignant tumor and needs surgery asap or she could die. Are there any financial services in the metro area of Washington, DC or Maryland that could help me? I am in dire financial need.

By Janet from Hyattsville, MD
Answers
November 11, 2010
0

found this helpful
Best Answer
Call your local Humane Society or local government animal control offices and explain your predicament. They may have phone numbers of organizations that may be able to help you. Also, look up veterinary schools in your area, as they may be able to provide you with other leads.
Good luck to you and your Sugar. I wish you well.
Answer

this Question

...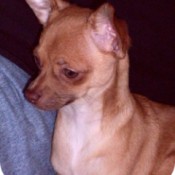 My 3 year old Chihuahua, Shakira, has developed glaucoma in her right eye due to a cat scratch she received awhile back. So, a few weeks ago I had to rush her to the emergency because almost overnight her eye just got so bad, and her eye was bleeding. Shakira was already on medication for her eye, but since her eye became so much worse, the emergency vet changed her medication and also prescribed her pain medication. Shakira needs to have her eye removed and if I don't get her the surgery quickly, the vet indicated that it could possibly spread to her other eye. It would kill me to see her go completely blind, not to mention she has such beautiful green eyes.
Shakira has been through too much already. When she was scratched in the eye by the stray cat that came into our yard. I turned my back just for a second to unload the truck and that's all it took; so off to the emergency we went.
Then, a few months later, I was walking Shakira and out of know where, a Pit Bull came charging and attacked her. The Pit Bull had Shakira in its mouth and all that I remember was that my 5 lb Chihuahua was not going to die like this. I guess my adrenaline was pumped up because before I knew it, I was jumping on this dog, fighting this dog. I shoved my hand and arm in its mouth and just started prying this dog's mouth open. As Shakira dropped to the ground, I swooped her up and immediately I was drenched in her blood and she was going limp. I wrapped her tightly in her blanket to try and contain the bleeding and rushed to the emergency where she ended up staying there for over a week to get her stabilized due to the loss of blood. She also required surgery on her chest to repair the muscle damage. She now has a 3 inch scar down her chest. That was $2,500.
I am currently unemployed and the cost for the recent emergency trip was money to pay household bills, so needless to say a couple of things were turned off. I have run out of money to have her receive the eye surgery which would cost $500, and she has been through too much for such a tiny little dog. She doesn't deserve to be in such discomfort and to possibly lose her sight completely. My question is, is there anyplace that offers funding for pets that required immediate medical attention? Any kind of help or suggestions would be greatly appreciated. Thank you.
By DO
Answer

this Question

...
Please, I need help with my little doggy. Her name is Chiqui and she is 10 1/2 years old. She has had the best quality life that any pet could have. She needs a knee surgery (because of her ligaments). I have taken her to 5 vets and they all charge $1,500 to $3,000. I do not have this kind of money. Please I need help. Now that she is old, she is suffering with this. I feel so sorry for her that she is going to be in pain during her last years.
I live in Kissimmee Florida, do you know any clinic or society that could help me with this? Thank you.

Yamna

Answers:
Finding Financial Assistance for Pet Medical Costs
Have you called your Humane Society? Sometimes they have funds available for helping with various ailments, but in this economy, I don't know. Can you barter for services with a vet by getting an intern to perform and then you working off the rest of the funds? Good luck to you on this, and Bless you for taking good care of your dog! (06/18/2010)

Finding Financial Assistance for Pet Medical Costs
How about a veterinarian medical college nearby? Maybe they will cut you a break if they can use the dog for teaching students about this medical problem. Check to see if there is a veterinarian college near you. (06/19/2010)

By jill
Finding Financial Assistance for Pet Medical Costs
There's credit card company called Care Credit out of El Paso, TX. See if you can sign up for it over the internet, it's medical care for your pets, your dental, chiropractic, vision, hearing, cosmetic, and veterinary. Their number is 1-866-893-7864 and website is CareCredit.com. You can go up to $3,000, credit line and affordable payment plan.
As with most credit cards these days, the interest rate is high, but if you have no other alternative for your pet; you may want to apply for Care Credit. I signed up for it at my dentist's office, but haven't used it so far. I may in the future. Good luck. (06/19/2010)

By Myrna
Finding Financial Assistance for Pet Medical Costs
Yamna, I have a little Silky Terrier and he twisted his knee jumping off the back steps while chasing the birds. I went to the vet and he said the same thing. But we tried him on a course of Cartrophen and he had this injection every week for 4 weeks. The consultation was around $125.00, and because it was on going treatment, I only had to pay that once. He had the injection and they were approx $20.00 a time.

The vet said this treatment is 99% effective on dogs. Even if your dog does need an operation, ask the vet to try a course of Cartrophen, with a pain killer, it's worth a try. I was like you, it saddened me to see my dog in pain, he is 9 years old and responded well. Hope this helps you. (06/22/2010)

By Michelle
Finding Financial Assistance for Pet Medical Costs
Get some Glucosamine Chondroitin (I get mine at Trader Joe's for $9.99 + tax). It has helped with the pain that 2 of my Shih Tzus had. It will not solve the problem, but will give relief from much of the pain. Now they are active and more comfortable. (06/22/2010)

By Joan
Finding Financial Assistance for Pet Medical Costs
My 10 year old Cocker Spaniel has a torn cruciate in her left hind leg. The Vet said she needed surgery, but I did not want to put her through that at her age. Rest the dog, do not let the dog jump up on anything, and carry her up and down stairs, do this for about 4 weeks. During this time, begin glucosomine/chondroitin supplements, this has worked wonders for my dog. She never had the surgery and she runs around like a puppy! (06/25/2010)

By Blondie
Finding Financial Assistance for Pet Medical Costs
Thank you to all of you for this feedback. All your responses have been a wonderful help for me and my little baby. On her name, thank you so much. God bless you all. (06/25/2010)

By Yamna