August 16, 2008
0

found this helpful
My 5 month old puppy was recently diagnosed with Parvo. She has been in the vet for 3 days now and she has started to show signs of improvement. Is there any way to help with the bills, they are now at $1200.00 and she will still have to stay for another 3 days. Is there anybody that knows any way to help with these bills. My family and I just can't let her go. Please send responses. God Bless!

Cathy from Louisville, KY
Answers:
Talk to Your Vet
You can also talk to the doctor and explain the situation. Sometimes they can let the dog go home a bit earlier if they know you'll follow directions to the letter and if they know money is a problem.
By Judi
Volunteering
Here is an idea you might want to try. Try volunteering your time at the vet's office to trade for hours for payment. I had a couple of local bills and suggested that I could volunteer as a trade to pay off my bills. Some disagreed, but several companies loved the idea. I set a plan based on the going hourly rate and signed a contract to work a certain amount of hours until the bill is paid off or at least lowered.
By By Georgette Ruth
Bartering
If you or someone in your family has a skill you might be able to barter with your vet. I was lucky enough to barter with my dentist on 2 occasions. Of course I had to pay for the cost of my crown, but I bartered for the labor. Maybe you could do the same. Your vet does have to pay his or her employees and for the cost of their overhead. My Dentist told me strictly "Do not tell anybody we are bartering, I don't want others to think I'll do this for everyone!". So I've kept my mouth shut (until now because he's retired).
Type out the list of things you'd be willing to do for labor costs (tell him you'll naturally pay the cost of medication and tests). Then show him your list and tell him you'd be willing to sign a written contract for your bartering services. That way he'll know you are truly serious about really doing your part to "pay" for services rendered.
I've been living well below the poverty line for many years now (because I love being an artist) so I've had to come up with ways to do things like this. But I must say, that 2 weeks ago my cat Smokey swallowed the end of a sausage wrapper (from someone's garbage) and he almost died because it got caught in his intestines. I would have never been able to pay for the operation to keep him alive if my mother hadn't loaned me $800! I am now looking into animal insurance because I never want to have to ask her again to help me pay for vet bills.
One thing I found out when Smokey almost died was that each vet charges different prices. In WA we have several places called "Vets for Less" (which is where I took Smokey) and that operation would have cost me 3 times what I paid at any other Vet. I called around and you should too. It can literally save you hundreds of dollars, just by making 5 or 6 phone calls.
I also found out that when pets stay overnight, unless it's a 24 hour Vet Hospital, the animals are left all by themselves. Smokey was left alone (with other animals) in a cage. He'd have been in better hands with me at home where I could have kept an eye on him!
I didn't know this until the following day when my daughter suggested I ask if anyone stayed with the animals during the night.
By Cyinda
Call Around
This may not be an option for you, but if there are any other vets in your area, call them and find out what they would charge for similar treatment. If it's a lot lower, you may be able to discuss this with your vet because they know they are in danger of losing your business if they do not lower the charge.
We have a vet in our area that wanted to charge our friend more than $800 to pull her cat's tooth, saying the cat could die of infection. She was heartbroken (and broke). I had heard that the vet was very expensive overall. She brought the cat to my vet for a second opinion. They charged her $35 for the visit, determined that the cat was healing very nicely on its own, sent them home, and the cat has been healthy ever since. Now all my friends go to our vet.
Also, see if your vet has a payment plan. Surely they must run across this situation all the time. Also try some local no-kill centers, not to give up your pet, but to see if they have any suggestions for you. Everyone will want to help if they can.
By Natasha
Anyone who needs help paying for their veterinary bills should contact:
There is a list of places to contact on that site. Hope this helps the animals.
By Connie P. from Vandalia, OH
Comments
October 3, 2012
1

found this helpful
Top Comment
I talked to the dog warden and she told me of a place that has vets. that work there, and volunteer there time, and I can take my 3 cats and have them neutered for 40.00 dollars instead of 100.00 at our regular vets office.
I figured 120.00 is a lot better than 300.00. Our cats are rescues, I think they rescued us.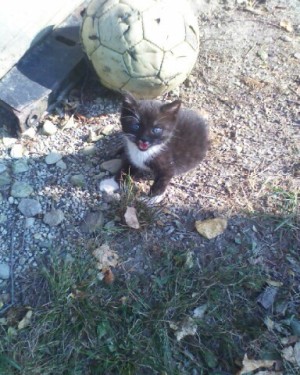 March 6, 2013
0

found this helpful
Top Comment
To the lady with the Maine Coon, I'm so sorry that you're going through this. Perhaps going to www.gofundme.com, you may be able to get more people to see your plight, and get some help. Good luck to you and your precious boy.
February 21, 2011
0

found this helpful
Does anyone know where or how I can get help with veterinarian bills? I'm living on Social Security. My kitty has an eye infection, and I can't afford to take her to the vet. Thanks so much for any help or suggestions.

By Donna from Sacramento, CA

Answers:
Getting Help to Pay Vet Bills
There is a credit card that is only used for a few places, like dentist, eye doctor, and veterinarians. It has to be accepted by the doctor. Not everyone accepts it, but ask anyway. You are given a credit limit and if you are not late with the monthly payments, no interest.

http://www.carecredit.com (01/05/2011)

By Pamela