Getting Help to Pay Vet Bills
Solutions
Share on ThriftyFunThis guide contains the following solutions. Have something to add? Please share your solution!
Anyone who needs help paying for their veterinary bills should contact:
There is a list of places to contact on that site. Hope this helps the animals.
By packlestax from Vandalia, OH
Comments
October 3, 2012
0

found this helpful
Top Comment
I talked to the dog warden and she told me of a place that has vets. that work there, and volunteer there time, and I can take my 3 cats and have them neutered for 40.00 dollars instead of 100.00 at our regular vets office. I figured 120.00 is a lot better than 300.00. Our cats are rescues, I think they rescued us.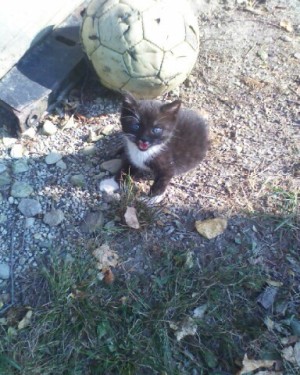 March 6, 2013
0

found this helpful
Top Comment
To the lady with the Maine Coon, I'm so sorry that you're going through this. Perhaps going to www.gofundme.com, you may be able to get more people to see your plight, and get some help. Good luck to you and your precious boy.
Questions
Ask a QuestionHere are the questions asked by community members. Read on to see the answers provided by the ThriftyFun community or ask a new question.
I need ideas on how to pay my vet bill. My kitty is sick and I don't have the money right now to pay for the vet. Any ideas how to pay them?
By Crystal from Santa Ana
Answers
January 20, 2013
0

found this helpful
Best Answer
Make a deal with the vet for either reduced fees or a payment plan. I did this for my cat when she was ill.
January 20, 2013
0

found this helpful
Best Answer
There is a credit card called Care Credit. I had to apply at the vet's office when I had to put my cat down. Yes, it's a credit card but I only used it twice, both times on one of my cats. It gave me piece of mind knowing my cat would get the help he needed and I was able to pay it off in payments. It gives you a few months of interest free to pay it off which helped.
Answer

this Question

...
Archives
ThriftyFun is one of the longest running frugal living communities on the Internet. These are archives of older discussions.
August 16, 2008
0

found this helpful
My 5 month old puppy was recently diagnosed with Parvo. She has been in the vet for 3 days now and she has started to show signs of improvement. Is there any way to help with the bills, they are now at $1200.00 and she will still have to stay for another 3 days. Is there anybody that knows any way to help with these bills. My family and I just can't let her go. Please send responses. God Bless!

Cathy from Louisville, KY
Answers:
Talk to Your Vet
You can also talk to the doctor and explain the situation. Sometimes they can let the dog go home a bit earlier if they know you'll follow directions to the letter and if they know money is a problem.
By Glenn'sMom
Volunteering
Here is an idea you might want to try. Try volunteering your time at the vet's office to trade for hours for payment. I had a couple of local bills and suggested that I could volunteer as a trade to pay off my bills. Some disagreed, but several companies loved the idea. I set a plan based on the going hourly rate and signed a contract to work a certain amount of hours until the bill is paid off or at least lowered.
By By Georgette Ruth
Bartering
If you or someone in your family has a skill you might be able to barter with your vet. I was lucky enough to barter with my dentist on 2 occasions. Of course I had to pay for the cost of my crown, but I bartered for the labor. Maybe you could do the same. Your vet does have to pay his or her employees and for the cost of their overhead. My Dentist told me strictly "Do not tell anybody we are bartering, I don't want others to think I'll do this for everyone!". So I've kept my mouth shut (until now because he's retired).
Type out the list of things you'd be willing to do for labor costs (tell him you'll naturally pay the cost of medication and tests). Then show him your list and tell him you'd be willing to sign a written contract for your bartering services. That way he'll know you are truly serious about really doing your part to "pay" for services rendered.
I've been living well below the poverty line for many years now (because I love being an artist) so I've had to come up with ways to do things like this. But I must say, that 2 weeks ago my cat Smokey swallowed the end of a sausage wrapper (from someone's garbage) and he almost died because it got caught in his intestines. I would have never been able to pay for the operation to keep him alive if my mother hadn't loaned me $800! I am now looking into animal insurance because I never want to have to ask her again to help me pay for vet bills.
One thing I found out when Smokey almost died was that each vet charges different prices. In WA we have several places called "Vets for Less" (which is where I took Smokey) and that operation would have cost me 3 times what I paid at any other Vet. I called around and you should too. It can literally save you hundreds of dollars, just by making 5 or 6 phone calls.
I also found out that when pets stay overnight, unless it's a 24 hour Vet Hospital, the animals are left all by themselves. Smokey was left alone (with other animals) in a cage. He'd have been in better hands with me at home where I could have kept an eye on him!
I didn't know this until the following day when my daughter suggested I ask if anyone stayed with the animals during the night.
By Cyinda
Call Around
This may not be an option for you, but if there are any other vets in your area, call them and find out what they would charge for similar treatment. If it's a lot lower, you may be able to discuss this with your vet because they know they are in danger of losing your business if they do not lower the charge.
We have a vet in our area that wanted to charge our friend more than $800 to pull her cat's tooth, saying the cat could die of infection. She was heartbroken (and broke). I had heard that the vet was very expensive overall. She brought the cat to my vet for a second opinion. They charged her $35 for the visit, determined that the cat was healing very nicely on its own, sent them home, and the cat has been healthy ever since. Now all my friends go to our vet.
Also, see if your vet has a payment plan. Surely they must run across this situation all the time. Also try some local no-kill centers, not to give up your pet, but to see if they have any suggestions for you. Everyone will want to help if they can.
By Natasha
February 21, 2011
0

found this helpful
Does anyone know where or how I can get help with veterinarian bills? I'm living on Social Security. My kitty has an eye infection, and I can't afford to take her to the vet. Thanks so much for any help or suggestions.

By Donna from Sacramento, CA
Answers:
Getting Help to Pay Vet Bills
There is a credit card that is only used for a few places, like dentist, eye doctor, and veterinarians. It has to be accepted by the doctor. Not everyone accepts it, but ask anyway. You are given a credit limit and if you are not late with the monthly payments, no interest.

http://www.carecredit.com (01/05/2011)

By Pamela21554
January 5, 2011
0

found this helpful
A few years back a young man driving a forklift backed into a metal rack, dumping thousands of pounds of metal beams on top of me. Several of my vertebrae were crushed and I am now confined to a wheelchair and hospital bed. I have four cats/children who mean the world to me.

The neighbors brought me a sickly kitten two weeks ago who I nursed back to life but it still has a bad upper respiratory problem. It has now spread to my other babies. I am on disability and only get paid once a month. The vets want cash upfront. I love my babies. Is there someone or some organization out there who could let me pay them monthly to save my beloved pets? I am not rock bottom poor, I just can't come up with what they want all at once.

By Bear from Vancouver, WA
Answers:
Getting Help to Pay Vet Bills
You should just call local vet clinics and ask them, most of them are willing to work out a payment plan with you. :) (06/24/2010)

Getting Help to Pay Vet Bills
I would ask those inconsiderate neighbors to help with the bill.
In your condition and already having four cats, a sick cat is the last thing they should have brought you.
(06/25/2010)

By Lily May
Getting Help to Pay Vet Bills
I had a stray show up that had upper resppiratory problems every couple of months. Now I'm not a vet, but I do know that colds in cats can be caused by herpes simplex. I started to crush L-Lysine into moist food starting with 2 a day then once when symptoms improved. This shortened the duration and he bounced quickly back. L-Lysine is used in cold sore ointments and lip balms and speeds in healing. My stepson used to get them and at the first sign of one I would give this to him. It can be purchased at any drugstore or Walmart for a few dollars. (06/25/2010)

By babbles5
Getting Help to Pay Vet Bills
Normally, if I have that type of situation where more then one animal has the same thing, I take one to the vet and see what he says. See the meds he gives and tell them you can only pay whatever you can afford the first visit but that you will pay it off as time goes by.
If you find out the first one has something that is covered by fish antibiotics, which are sold on online pet stores, or other antibiotics they sell for livestock, then you could get the dosage of that same antibiotic down and give it to the others. My cat is allergic to penicillin and lots of them are, that is why I would take the first one to the vet. Respiratory is a dangerous thing altogether it could be simple or complicated. Better to have a high bill at the vet, and pay it off if you cant pay it off. why go there for anything?
Robyn (06/27/2010)

By Robyn Fed
Getting Help to Pay Vet Bills
Try the Humane Society and Vet Schools. Also, from my files: There's credit card company called Care Credit out of El Paso, TX. See if you can sign up for it over the 'net, it's medical care for your pets, your dental, chiropractic, vision, hearing, cosmetic, and veterinary. Their no. is 1-866-893-7864 and website is CareCredit.com. You can go up to $3,000. credit line and affordable payment plan. As with most credit cards these days, the interest rate is high, but if you have no other alternative for your pet; you may want to apply for Care Credit. I signed up for it at my dentist's office, but haven't used it so far. I may in the future. Good luck. (06/29/2010)

By desertgal
June 24, 2010
0

found this helpful
Click to read more ideas from older posts on ThriftyFun.
Read More...
Related Content