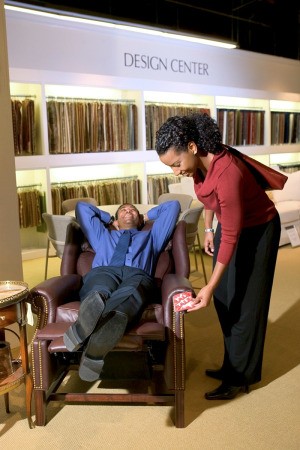 I'm shopping for a new recliner and in the stores. I'm seeing brands/manufacturers I'm not familiar with. I tried doing a Google search for reviews and did nothing, but go around in circles.
My last recliner lasted me over 10 years; I bought it at Haverty's, but now when I ask about a particular brand they say they carry their own brands. Please help me shop for a good quality recliner.
I found one I liked for less than $400 at Ashley's, but I can't imagine it lasting very long for that amount of money. I bought a new sofa less than 2 years ago that has turned out to be a piece of junk. I don't want to make the same mistake again.
By Betty
Answers
February 10, 2010
0

found this helpful
We got a La-Z-Boy, and haven't had any problems with it. My parents have had the same La-Z-Boy since I was a kid . . . probably 25 years or so), and it's still comfortable and works well.
I haven't used others, so I can't say how good they are, but the La-Z-Boys seems to hold up well!
If you know you want a particular brand, maybe you can search online for their manufacturer. And from there you can probably find local dealers. Best of luck!
February 10, 2010
0

found this helpful
We bought 2 nice lazy boy recliners in about 1987. They still look nice and are easy to clean. We still have one and my daughter has the other one. Shes ready to get new furniture so we may get the other one back. Now, the problem; each one of them click, click, clicks when you rock in them. They still rock perfectly smooth. They just click and click and click.... drives you crazy! I emailed Lazy Boy way back when, and never got a response. Any ideas?
February 11, 2010
0

found this helpful
I have owned La-Z-Boy recliners for the last 30 years. Have 2 rocker recliners with the swivel bases, and they work well. If your local dealer has 2 for 1 price sales, that is the best price for them. If you want 1 chair, find a friend who also wants a chair.
February 13, 2010
0

found this helpful
La-Z-Boy's are the best! I had my Mom's chair after it was already 15 years old. I raised 2 boys who used the chair for launching pads, diving boards, beds, dog bed, etc. Believe it or not, it lasted another 15 years, and finally did stop reclining. It more than gave it's all. So, get a La-Z-Boy, you won't be sorry.
Read More

Answers