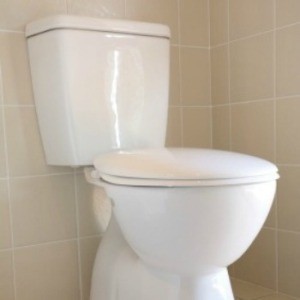 Hi, I am Leo the repair guy. I've been fixing houses and doing household repairs now for 30 years. I'm here to help you with one of your most common toilet problems and to give you easy directions to fix this yourself. With plumbers charging outrageous prices, this is a repair you can easily do yourself.
Toilet Run on is one of the most common problems you can have with a toilet and it can cost you lots of money in water bills. There is occasionally a toilet that runs or flushes on it's own. You might not hear it until late at night when the kids are asleep and their TVs or stereos are off or you might just hear a sudden flush of water for a moment a few times during the day or night.
In general, because there are different types of systems, the cause is a defective flapper valve. This is located in your toilet tank centered in the bottom of the tank. Your flush handle has a chain or rubber strap that raises this flapper when you push down the handle to allow the tank water to rush into the bowl tow flush away waste. When these flappers wear out they allow water to pass by them when the handle is not lowered. When the water level gets low enough the float will lower with it and eventually tell the fill valve to put more water into the tank until the float is raised enough to close the fill valve. This is the Run on effect.
Diagnosing the Problem
If you suspect this but are not sure, try a little food coloring in your tank. Wait 5 or 10 minutes. Then check your bowl for that color. If there is no color in the bowl, wait an additional 20 minutes. If there is no color in the bowl then it is probably fine. If you have color in your bowl, you will need to repair this problem
Repair
To repair this yourself, first turn off the valve located below the left side of your toilet tank. I suggest laying an old towel down in your bath tub then remove the tank lid and lay it on the towel so that it is safe and out of the way. Watch as you push down on the flush lever. Look at where the flapper pivots usually at the bottom of the over flow tube, Take mental notes, repeat the raising of the flapper 2 or more times until the tank has emptied. Remove the chain from the handle lever in the tank. Reach in carefully, pull the flappers arms off the pivot posts. Compare your old flapper with your new one as you may have to cut away the new tube mount, scissors will do.
Read More Comments
We have a toilet running and it's probably a flap ball that due to age doesn't seat properly after you flush and lets just a little water pass by. Any of you have a tip for me that I can continue my cheap (er... I mean frugal) ways?

Thank you,

Jim in FL

Answers:
Fixing a Running Toilet
Replace the flap, they don't cost that much and look at the money you are sending down the toilet by letting the water run. (04/07/2005)

By
Fixing a Running Toilet
Definitely replace the flap. The whole assembly cost me $7.95 at the local home improvement place and took about 5 minutes to install. I saw the water bill go down dramatically, immediately. (04/08/2005)

By Jen
Fixing a Running Toilet
My husband does a lot of plumbing jobs and this is what he has found:

Many times the whole assembly does have to be replaced. Yes, $5-7 for cost.

Periodically to check if your toilet is leaking: turn off the tap behind your toilet. Check where the water level in the toilet tank is at. Leave it for a few hours or overnight and recheck the tank. Has the water level dropped at all? If so, you need to replace the flapper.

Even after a new assembly has been installed, check the water level again by turning the water off. Sometimes the new ones do not work or seat properly, better to double check then to still have a water leak.

Also, you do not have to hear water leaking from your toilet in order to have a leak. If you do hear it then your water bill will be really high. A slight leak and your water bill will be just a little bit higher than normal. It costs nothing to check the toilet, just your time and effort.

P.S. We run a water utility company and this past month one of our customers had a leaking toilet. I called her to let her know that she would be getting an extremely high bill (about $1300 CDN for 3 months of usage) and she told me that she just hadn't gotten around to getting someone to come in and fix her toilet. She would have saved herself SO much by buying a $5 assembly and having it installed by herself or a plumber. But... procrastination. (04/08/2005)

Fixing a Running Toilet
There's not really a way to save on this one. I did read somewhere not to use bleach tablets in the tank because it would deteriorate the flapper, so I stopped using those immediately. This is a very annoying problem for all of us! (04/10/2005)

By suzi homemaker
Fixing a Running Toilet
Have you tried wiping the flapper with Bleach? A plumber gave me this tip. Continuous water contact with flapper causes a slimy stuff to form which prevents it from sealing properly. Worth a try B4 buying a new one. (04/12/2005)

By Jukea
Fixing a Running Toilet
In my case the chain was too long and was getting under the flap every time I flush and preventing it for sealing properly. I just had to adjust it to make sure it's long enough to operate the flap but not too long to hang and run under the flap after you flush. Give it a try, it only took me one minute and cost nothing. (05/20/2005)

By Heryck, NY
The Float
My problem has to do with the float: it seems to sink after a while and not come back up which causes water to run continually. (02/12/2006)

By Mike
The Float
Usually the float can be unscrewed from the rod which holds it. I'm pretty sure you can just buy a new one. You also could try to find the leak and patch it with a waterproof glue or caulking. Make sure it is good and dry before you put it back on. If for some reason it doesn't unscrew you may need to replace the whole assembly. Hopefully it will. (02/12/2006)