Hendrix and Harley are Flame Point Siamese. I got these handsome boys a little over 14 years ago. A little boy in the neighborhood was selling kittens for $10 each. I went by and picked out the one I wanted, and told the family I would return later that night to pay them and get the kitten.
When I returned I bent down to get my kitten when all of a sudden another kitten that looked just liked him jumped out of the bushes. I was surprised because I hadn't seen the "twin" before.
I looked at the boy's mum in confusion, and told her I didn't know which kitten I'd picked out earlier that morning. She just said "2 for the price of one". I handed her $10 dollars and left with 2 twin brothers.
They are very playful for 14 year old cats. They are indoor cats and like to bat little pom pom balls across the floor and pretend that it is prey. They are lap cats and love to hang out with us. They follow us around our home as well. They love to sit under our Christmas tree and of course, sleep, eat and groom. I'm so glad I got them both.
By Paula Arnold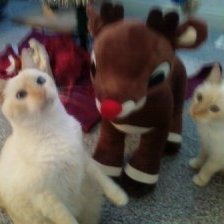 Comments
Read More Comments