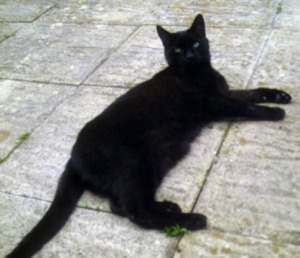 Breed Description:
The Bombay is a jet-black cat with a shiny, glassy coat, and eyes that range from gold to copper. They carry Burmese blood and are similar in confirmation, although their head tends to have a slightly more rounded shape. The Bombay is less popular in Europe than in the United States and not as widely bred as some of the other breeds.
History & Origin: This breed started when American Burmese cat breeder, Niki Horner, set out to create a mini black panther. In 1953, she bred a black American Shorthair to a sable colored Burmese. Years of careful breeding produced the Bombay we see today.
Character & Temperament: Because of their Burmese heritage, Bombays exhibit a similar temperament. They are quiet by nature, but are happiest when in the company of their family and do not like to separated from them for long periods of time. They generally get along well with other cats and dogs and are patient with children. Playful and affectionate, this breed has a quiet, pleasant voice, although they are seldom very vocal.
Color: Bombays are jet-black to the roots. A kitten's coat may be initially lighter, but should darker with age.
Coat Type: Shorthair; Bombay's coats have a satin-like texture and a high, glossy sheen.
Grooming: They are easy to care for and require very little grooming. Stroking the cat regularly will keep its jet-black coat shiny and glossy. Claws should be trimmed and ears cleaned only when necessary.
Health Considerations: This is basically a healthy breed, but can carry some genetic defects similar to those found in their Burmese heritage. Some lines can be susceptible to heart, skull and spinal defects. Bombays can also be prone to tearing of the eyes.
Trivia: Because of its glossy coat and coppery eyes, Bombays have been referred to as 'the patent-leather kid with the new penny eyes. Bombays are bred with one another and also with Burmese.