I am looking for any recipe(s) for Frappuccinos. Someone out there surely has their version that taste just as good as those sold in the stores in the glass bottles, that are very expensive.
Thanks in advance.

Michele from Western, KY
Answers:
Frappuccino Recipes
My sons think I am crazy, but I use my leftover coffee, add two tablespoons of sugar, a capful of vanilla, chipped ice, and whole milk. Put in the blender til frothy and add cool whip on top. Voila, a French Vanilla Frappucino that tastes just like the one I have paid $4.50 for down the street.Works for me. (07/07/2006)

By Trina
Frappuccino Recipes
Here's a Frappuccino recipe my family enjoys and it's very easy.
1/2 cup cold strong coffee or 1 teaspoon instant coffee and 1/2 cup cold water
2 cups cold milk
1/4 - 1/3 cups sugar
1 1/2 cups ice
Put all in a blender and blend till a consistency you like.
Flavorings can be added.
We like to add chocolate syrup or flavored coffee syrups.
Enjoy. (07/07/2006)
By Judy
Frappuccino Recipes
I use instant coffee (1 tsp) to 8 oz milk, 1-2 tsp sugar (and 1 tsp vanilla if desired) put in jar or container with lid and shake until instant coffee is dissolved. (07/07/2006)

By imaqt1962
Frappuccino Recipes
I buy the flavoured instant cappuchino mixes to make them at home. Instead of mixing them with hot water I dissolve the powder in a little hot water (a couple of tablespoons, it won't mix well directly into milk) and then fill up the rest of the cup with milk. The mixes come in different flavours, but you can add vanilla extract or chocolate syrup to get the flavour you want.
You can also put it in the blender with some ice to make it more frosty. (07/07/2006)

By Trix
Frappuccino Recipes
Copycat Starbuck's Frappuccino (4 servings)
3/4 cup double strength coffee (see below), chilled
2-1/2 cups 2 percent milk
1/4 cup sugar (or Splenda)
1 tablespoon dry pectin, optional (for texture)
Combine coffee and sugar and chill. Add milk and pectin, shake together thoroughly and chill again. To serve, zap in a blender for 30 to 45 seconds, or shake mixture in ice, strain and serve. For vanilla add a capful of vanilla extract; for mocha, add a pinch of cocoa powder.

Make double-strength coffee by brewing with twice the coffee required by your coffee maker approximately 2 tablespoons of ground coffee per each cup of coffee. Chill before using.

Like Starbuck's Frozen Frappuccino (2 large servings)
3/4 cup double-strength coffee, chilled
3 tablespoons sugar (or Splenda)
1 cup 2 percent milk
2 cups ice
Combine all ingredients in a blender and blend on high speed until ice is crushed and drink is smooth. Pour into two 16-ounce glasses, and serve with a straw.

For caramel, add 3 tablespoons of caramel topping; for mocha add 3 tablespoons of Hershey's syrup. If desired, top with whipped cream and drizzle additional sauce over top of cream.
(07/07/2006)

By mef1957
Frappuccino Recipes
Put 1 cup of skimmed milk (in a plastic cup) in the freezer till it is chilled as you will be able to see the milk forming flakes. Its better than adding ice to the blender as you add the rest of the ingredients and it is rich and creamy with no added ice.
Add:
a pinch of vanilla or 2 drops.
1 spoon of Maxwell house Colombian strong instant coffee (best for frappuccino)
sugar or Splenda (as you like the taste to be)
3 spoons of dark chocolate syrup or caramel syrup
Mix all in the blender till its smooth and creamy, top it with additional creamy foam spray and caramel. Wow.
(06/11/2007)

By frappulover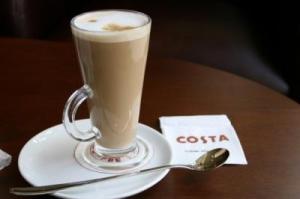 Frappuccino Recipes
I like to put 1/2 cups of ice, 1 scoop of chocolate ice cream, and 1/2 cup of coffee. (03/22/2008)

By capecod
Frappuccino Recipes
Vanilla Bean Frappuccino Recipe:
3 tablespoons sugar (or Splenda)
1 cup 2 percent milk
2 cups ice
2 small scoops vanilla ice cream
Blend until ice is completely crushed. Enjoy. Makes 1 large serving.
(04/05/2008)
By Jackie
Frappuccino Recipes
The best Fappe ever. Put two cups of water, 1 cup of ice, 1 cup of coffee, and any ice cream. Mix, then add 1 egg. Very tasty try it. (07/02/2008)

By gudubachani
Frappuccino Recipes
Here's a healthy version of the Starbucks' frappuccino:
1/2 cup milk (or Half and Half for richer drink)
1/4 cup honey
1/4 cup cream
1/2 tsp cocoa
1 tsp vanilla (may also add a little nutmeg, hazelnut syrup, and/or coconut extract as well to spice it up)
2 T. coffee substitute (like Pero or Roma) or 1 tsp instant coffee
Mix all in a blender, then add about 2 cups crushed ice (or 3 cups cubed). As soon as the drink gets thick, like a milkshake, you can stop adding ice, and it should be perfect. Delicious. (07/21/2008)

By Kathryn
Frappuccino Recipes
Make and use coffee ice cubes, add cream, sugar, chocolate, and blend. (02/26/2009)

By Bob
Frappuccino Recipes
I live in Florida and I need something to drink when its 95 degrees outside. I didn't have any vanilla or syrup on hand so this is what I did. Here is an iced Frap made with what I had on hand and it worked out great. Place everything in a blender.
12-15 Ice cubes
12 oz. of milk
1 Tablespoon of Cinnamon
1 pinch of Cardamom
1 Double shot of espresso
2.5 Tablespoons of Sugar
Blend until smooth. Pour into a frosty beer mug with ice cubes. Enjoy.
PS. If you are over 21, you can add a shot of dark rum and kick it up a notch. (06/14/2009)

By Hermes