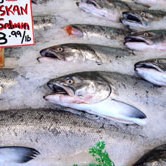 Selecting High-Quality Fish:
Freeze fresh as soon as possible after catching-within 24 hours. Keep fish on ice until you're ready to process. If purchasing fresh fish, look for firm flesh, bright, clear eyes, shiny scales and red-colored gills. Fresh fish should have a mild, sweet odor rather than a strong "fishy" odor, which signals the fish has gotten old.
Preparing for Freezing:
How you prepare a fish for freezing depends on what type of fish it is. In general, clean and dress it exactly how you would if you were gong to cook it immediately. If you're purchasing fish from a market, you can usually have the retailer do it for you. Wash it, scale it and remove the entrails, head and dorsal fins. Wash fish thoroughly in cold running water. Cut large fish into steaks or fillets.
Pre-Treating (Dipping):
Fish are categorized as either fat or lean according the amount of fat they contain. "Fat fish" includes varieties such as mullet, mackerel, trout, tuna and salmon. "Lean fish" includes flounder, cod, whiting, redfish, croaker, snapper, grouper, and most freshwater fish.
Pre-treating fish with an ascorbic acid solution will protect their flavor quality and extend their storage time when freezing. Fat fish should be dipped for 20 seconds in a solution made from 2 tablespoons crystalline ascorbic acid and one quart of cold water. Lean fish can be dipped for 20 seconds in a brine of 1/4 cup salt to 1 quart of cold water. If you use the lemon-gelatin method of freezing, pretreatments are not needed.
Packaging & Freezing:
Double wrap fish in butcher paper, heavy-duty aluminum foil or another type of vapor-proof paper. Fish may be frozen using any of the following methods. Separate multiple fish in the same package with plastic wrap or butcher paper.
LEMON-GELATIN GLAZE:
Mix 1/4 cup of lemon juice together with 1_ cups of water. Dissolve one packet of unflavored gelatin into 1/2 cup of the mixture. Bring the remaining 11/2 cups of liquid to boil and stir the dissolved gelatin mixture into the boiling liquid. Cool to room temperature. Dip the cold fish into the lemon-gelatin glaze and drain. Wrap, label and freeze.
ICE GLAZE:
Place unwrapped fish on a tray lined with wax paper and place it into the freezer to freeze. As soon as it is frozen, dip fish in ice water and put it back into the freezer for a few minutes to harden.. Repeat this procedure until the fish is covered uniformly in an ice glaze. Wrap, label and freeze.
WATER:
This method is fast and easy, but will produce a less quality product than the glaze methods. Place fish in a shallow metal, foil or plastic container; cover with water and freeze, making sure the fish is completely submerged. Wrap the container in freezer paper after it is frozen to prevent evaporation. Label and freeze.
FISH ROE:
Wash thoroughly and pack in a suitable airtight freezer container, leaving 1/4-inch of headspace. Seal and freeze.
SHELLFISH:
Shellfish is best when consumed fresh. When freezing is necessary, lobster and crab should be cooked fully before freezing. The meat can either be removed, or frozen in the shell. Shrimp, mussels, clams, oysters and scallops should be frozen uncooked. Shrimp (remove the heads) and scallops can be rinsed, frozen on trays, then packed into plastic bags or rigid containers for freezing. Shuck clams, oysters and mussels, saving the juice (strain to remove any sand). Rinse, pack in rigid containers or plastic bags and cover them with their own juice and a brine made from 1 tablespoon of salt to 1 quart of water. Leave 1/2 inch of headspace.
Maximum Storage Time at 0ºF
(lowest = best flavor, longest = max. amount of time).
| | |
| --- | --- |
| Fatty Fish-(tuna, salmon, etc.) | 1 to 4 months |
| Lean Fish-(haddock, sole, bass, cod, pike, etc.) | 4 to 6 months |
| Clams & Scallops | 3 to 4 months |
| Crabs & Lobster | 1 to 2 months |
| Oysters | 1 to 3 months |
| Shrimp | 4 to 6 months |
| Cooked Fish | 4 to 6 months |
| Smoked Fish | 2 months |
Thawing:
Thaw fresh frozen fillets and steaks in the refrigerator or microwave oven just long enough to separate them for cooking. Fish stored in water-proof packaging can be submerged under cold water. Fish should be cooked before being fully thawed to avoid the breakdown in the texture of flesh that occurs as a result of thawing. Exceptions: Fish that will be breaded, battered, deep-fried or stuffed should be completely thawed before cooking. Commercially prepackaged breaded fish should not be thawed before cooking.
Refrigerating Fish:
Fresh steaks, fillets, shellfish and shucked seafood can stay in the refrigerator for 1 to 2 days; cooked fish for 3 to 4 days and smoked fish for up to 2 weeks.