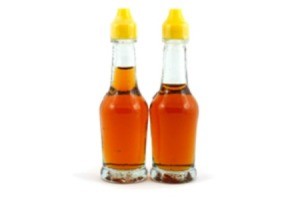 Also Known As:
Nuoc Mam (Viet Nam), nam pla, ngan byar yay (Thailand), nam pa (Laos), teuk trei, patis
Description:
Fish sauce is cherished throughout Southeast Asia, especially in Viet Nam, Thailand, Laos, Cambodia, and the Philippines. For those not accustomed to it, the smell can be quite overpowering. In Viet Nam, people often joke that they have fish sauce running through their blood. Fish sauce can be made from any type of fish,but is often made from anchovies. The fish is fermented for many months and the liquid is drained out through a spigot and processed. It comes in many varieties, made with herbs and spices mixed in, or just with salt. The color can range from light amber to dark brown. Almost every dish in Viet Nam and Thailand includes fish sauce as an ingredient.
Uses:
It is used during cooking as well as a dipping sauce. Dipping sauces can be made sweet or spicy, using ingredients such as sugar, lemon, pepper, Thai chilies, ginger and garlic.
Buying:
You will often find this in the Asian cuisine aisle at your local grocery store, or at a local Asian general store. Phu Quoc is considered a good brand in Viet Nam.
Recipes:
Storage:
It is best to keep this stored in a cool dark place, but do not refrigerate.