By McFly
Frigidaire Dishwasher Reviews. I have heard that this brand of appliance, no matter what it is, is subject to many types of problems. I would like to hear feedback from anyone who has purchased above brand in the last year.
S Womack from Venice, FL

Answers:
Frigidaire Dishwasher Reviews
We have a Frigidaire dishwasher that we bought this year, and I love it. It is very quiet and does a great job cleaning the dishes. I don't know how it will be 5 years from now, but right now, we think it is great. (08/30/2006)

By J. Pruitt
Frigidaire Dishwasher Reviews
I purchased a dishwasher and for 9 months it has been doing great washes dishes great. It was a good bargain with just the basic necessities. I don't need all the fancy stuff I do not use anyway. Knock on wood so far. (08/31/2006)

By Trina
Frigidaire Dishwasher Reviews
I purchased mine 3 years ago. In fact I did my whole kitchen in stainless steel Frigidaire appliances. About year 2 I began to have problems with my dishwasher. 6 months ago I had to replace the entire computer panel. Recently I started having small leaks from this and that, then finally I woke up one day and my entire kitchen floor was ruined. A leak from the dishwasher valve.
As soon as this was replaced the tub from the dishwasher was leaking which means a new dishwasher. For me, this has been the dishwasher from hell. I have about 3 thousand dollars to my property as a result of leaks from it plus the dishwasher must be replaced. When the valve leaked it was located in such a way I could not detect the leak. It went directly into my subflooring where it was absorbed. I never saw water.

The top of my floor and inside my cabinets were dry as a bone. I had anticipated I would get at least 10 or more years service out of my machine. Perhaps it was made on a Monday. I sure got ripped off on this one. Water leaks are scary, especially when you have an upstairs kitchen. It left me wondering if their parts come from Mexico or something.
Now I have had trouble with my Home Owner's Insurance as far as the floor is concerned, ev en they have difficulty discerning that one machine can be so flawed. As they say to report a water leak within three days. I couldn't tell what was what with this dishwasher. I thought it was repaired and then something else would happen. So now it looks doubtful my homeowners will pay for my floor and ceiling. (03/18/2007)

By Robin
Frigidaire could have burnt my house down!
My Frigidaire dishwasher is 4 years old. It still works, but I came home to find water dripping in my basement. Turns out the heating element in the bottom of the unit burned a hole through the plastic of the shell, and water has been leaking for who knows how long. I need to make an insurance claim. I'm just lucky we didn't have a fire in the kitchen while we were asleep. I am never buying Frigidaire again ever. (05/03/2007)
By sahlstro
Frigidaire Dishwasher Reviews
I bought a Frigidaire dishwasher in May of 2005 along with a stovetop, through the wall oven, and refrigerator. It was not two years old in usage/purchase when it started to leak water which went all into our cellar as well as flooding the kitchen floor.

When we went to the store that sold us all our appliances, we were told by the salesperson that they sold the appliances, not made them. Now we are awaiting a service person to inform us whether Frigidaire will be the final product we ever buy for our home. Very poor quality and in such a competitive world you would think Frigidaire would produce a better product. It is not the first time I have seen reviews about their dishwashers leaking. (06/27/2007)

By Chase
Frigidaire Dishwasher Reviews
We purchased a top of the line Gallery Dishwasher 6 years ago when remodeling our kitchen. It recently went on the fritz and neither a repair person I chose (who consulted with Electrolux--Frigidaire) nor a factory authorized repairman could figure out how to repair the problem.
A 95 minute cycle takes about 15 minutes. The control panel was replaced 3 times and the motor once, still no working appliance. After I sent a letter they said they couldn't reproduce the problem so more or less too bad. They did say, however, that they would give me a 15% rebate on a new dishwasher of theirs. They must be joking. No one I've spoken to can tell me how to get in touch with corporate either. I can't follow a line of management to any helpful level. (09/05/2007)

By Marianne
Frigidaire Dishwasher Reviews
I bought a stainless dishwasher to match some other new kitchen appliances, and in a little over a year have had the panel replaced 3 times due to condensation shorting out the keypad. They ended up fixing the problem by putting duct tape over a hole to keep the water out. Also, there is a white residue left on plates and glasses most of the time, and I am very unhappy with the appliance. I would never buy a Frigidaire again. (09/25/2007)
By Brian
Frigidaire Dishwasher Reviews
I was doing a web search hoping to find someone who could help me with a useless Frigidaire dishwasher. Through the first year, while still under warranty, they were able to fix the door seal and the door latch, but they still could not get the dishes clean. They were going to replace the digital timer, but when I called, because I didn't hear from them, they decided it didn't need one.

After it was out of warranty I called Frigidaire (Electrolux) customer service and explained the situation and they sent out a different repair company. This guy felt it needed a new water valve and called Frigidaire (Electrolux) for an approval. He was told that the dishwasher was out of warranty and I would have to pay for the repair. I talked to the person on the phone and explained my previous phone call to customer no-service. They said they never said they would cover the repair. Needless to say, I paid to have it fixed and it's still a piece of junk. (11/13/2007)

By D. Schlack
Frigidaire Dishwasher Reviews
Just had a fire in my house caused by Frigidaire dishwasher which melted in place. Luckily I was at home, but suffered extreme smoke inhalation trying to put out fire with small extinguisher. Piece of junk. l just had it serviced three weeks before the fire. Any help out there would be appreciated.
(12/20/2007)

By Kurt
Frigidaire Dishwasher Reviews
We bought one in Nov. 2004, and it is now leaking all over our basement. We were told the tub was warped 3/4 inches on both sides. I am wondering if that is from the same heating element problem that caused fires for other people. I was feeling sorry for myself until I came to this sight, at least we got this piece of Frigidaire junk out of our house before it ruined our kitchen. (01/17/2008)

By Patty
Frigidaire Dishwasher Reviews
Purchased a Frigidaire dishwasher 3 years ago. The heating element broke off the bracket and melted through the bottom. The water ran down the basement wall into the main circuit breaker. Had to call 911 cause the breakers were all sparking.
Shut off main breaker with Fire Department help. Had to replace all the breakers over $900 and now no dishwasher. Looking for a recall on this model and get compensation back from the company. Any help would be appreciated of whom to contact. (03/30/2008)

By CJS
Frigidaire Dishwasher Reviews
I recently had a breakdown in our 3 year old dishwasher, that could have resulted in a fire. The dry cycle stopped with 36 minutes left, but the heat stayed on. Melted anything plastic including the wheels on the upper rack. We smelled it and had to use the breakers to turn it off. Anyone know of any recalls, etc. If there isn't there should be after reading this page. (04/13/2008)

By Denise C
Frigidaire Dishwasher Reviews
I purchased Frigidaire Professional Series appliances for my home last August. Not quite a year, but I have no problem with any of it. We have the double ovens, ceramic cooktop, dishwasher and side-by-side fridge. So far all of it runs great. I love the stainless steel that Frigidaire offers. In fact, all of my friends with stainless steel are jealous, because it is hard to make a fingerprint on this stuff. It stays clean and beautiful. I love my Frigidaire appliances, so far. (05/10/2008)

By Y. Lind
Frigidaire Dishwasher Reviews
Purchased a stainless steel Frigidaire dishwasher in December 2003 from Lowe's. Had the dishwasher for five years no problems until today. Appliance Tech advised the motor is burnt out and it will cost approx. $350.00 to repair. Not sure what the lifespan of these appliances are but, my wife and I do not have children so the use of the dishwasher is rather limited. Just F.Y.I. (05/22/2008)

By Mark
Frigidaire Dishwasher Reviews
Purchased a new Gallery dishwasher four years ago. Last summer it broke down and the store we purchased it from had a free extended warranty. They replaced the main circuit board three times and all the other electronics two times. The appliance store finally pushed Frigidaire to replace the dishwasher under warranty that was in July of last year. Today we went to start the dishwasher and the story started again. A blinking CL and can't get it to run. I will go to the appliance store on Monday and tell them to sell me something else. (06/22/2008)

By Don
Frigidaire Dishwasher Reviews
We have a 14 month old top of the line Frigidaire dishwasher. While in warranty we had it serviced 6 times. Now it is 2 months out of warranty and we have a new, different problem. The dishwasher runs, but does not shut off. My wife and I have agreed that we are going to buy a new dishwasher rather than spend money to get this one repaired. This has been the single worst appliance purchase ever. Avoid Frigidaire. (07/02/2008)

By Bruce
Frigidaire Dishwasher Reviews
I bought a dishwasher in October 2006. Since then I have had it repaired because it wasn't washing the dishes properly. One morning I noticed my laminate floor was oozing water. We called Roto Rooter after State Farm advised me to call a plumber.

The main water line was leaking water and it ruined the kitchen. Now I am out of a dishwasher. The insurance company covered it but they are going after Frigidaire for the deductible. I think I will just do the dishes by hand, it is less hassle. (07/24/2008)

By Tiffany
Frigidaire Dishwasher Reviews
I bought the basic Frigidaire dishwasher about 22 months ago. It has never worked right. The control panel does whatever it wants. The soap dispenser door doesn't open half the time, door won't close. Start button won't start the unit, then it won't stop running. (I have to just hit the " cancel" button after an hour or so to turn it off.)

I have an extended warranty through Electrolux which is a joke. They will never replace an unfixable appliance, but they will refund your full purchase price of the extended warranty. Seems like that's the route to go and put the refund money towards another dishwasher, but not a Frigidaire. Never ever ever will I buy another Frigidaire appliance. They are junk! (08/01/2008)

By Katie
Dishwasher fire
I just came home to smell burning plastic. I noticed smoke coming from my dishwasher. I took it apart and found the computer motherboard fried from a short. Good thing I found it before it started a fire. (08/16/2008)

By Jeff
Frigidaire Dishwasher Reviews
Currently our Frigidaire Gallery Stainless Steel, top of the line and now 10 months old, is on the fritz again due to the electronic controls freaking out. Control panel has been replaced twice; now our local dealer says Frigidaire will replace with a new unit. Yikes. I will definitely be checking for water leaks, smoke, and melting plastic. Ours also has a non-opening detergent door at times. (08/23/2008)

By Dudley
Frigidaire Dishwasher Reviews
We purchased what we was a higher end ($650) 3000 speed clean Frigidaire Dishwasher (Gallery series) and despite limited use (run 4 times a week), no end of problems. The control panel fried in first year, now fried again. The soap dispenser leaks, and now the top spin arm has broken off. In 2 years, as compared to our previous Maytag, that never broke, but felt we should just retire it after 15+ years of use. (09/20/2008)

By Ian
Frigidaire Dishwasher Reviews
Absolute junk. It will not clean on upper rack. Lots of choices out there. Avoid this one. Gallery. (10/31/2008)

By MCRapper
Frigidaire Dishwasher Reviews
Model # FDB1050REC0. Dishwasher has had three pumps in 1st year. They would get very noisy? When replaced it would be great for a (short) period of time. (11/18/2008)

By Corby
PLD4555RFC is crap
Purchased March of 2008. Since the first day it was installed it leaked. The turbidity filter wasn't installed with a washer and dropped water as fast as it was coming in. This shorted out the unit and kept it from draining, except for on my floor. Called customer service and was transferred to India where they offered little help. I was told that they would put me in contact with the litigation department since the POS ruined my new maple kitchen floor. I received no help and no compensation. They are liars.

Since then, I contacted the local repair shop for Electrolux and they replaced the filter and washer. Now it only leaks on the dry cycle. The steam seems to be condensing inside the front panel and leaking onto the newly replaced wood floor. We have had the repair man out to three times to replace the seals, latch and still it leaks. (01/06/2009)

By Paul
Frigidaire Dishwasher Reviews
Absolutely the worst appliance we have ever bought. It consistently leaks at the bottom of the door due to a poor design of the seal gasket. We cannot load anything in the front of the bottom rack because the spray arm will hit it with water and deflect to the bottom of the door where the water leaks on the floor. (02/03/2009)

By Tom
Frigidaire Dishwasher Reviews
Our GLD2445RF50 GALLERY dishwasher purchased 3-02-07
After 3months the circulation motor went out. It was replaced. The new motor went out and was replaced. That motor then started to get noisy like the other two. The dealer replaced the entire unit. Now after 6 months it is the same problems all over again. The local service is good, but the appliance is not. The unit is going to be out of warranty soon, so if I don't modify it myself it probably won't last long. We thought our old Amana (GE) was junk because it only lasted 8 years. (02/22/2009)

By Ed
Frigidaire Dishwasher Reviews
Fire! (02/25/2009)

By Chris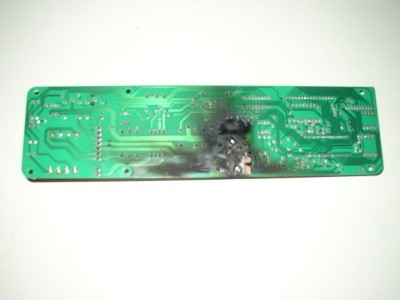 Frigidaire Dishwasher Reviews
I am going to go against the grain of most of the reviews posted here. I assume most reviewers are motivated to post comments when they have a bad experience with their product.

I purchased the Frigidaire "Professional" series dishwasher in Nov. 2005. It is in it's 4th year of operation and I have experienced no trouble, no leaking, a quiet operation, and clean dishware and silverware.

Assuming that Frigidaire sells thousands of units every year, the number of disparaging posts seems rather nominal. That is not to say that this manufacturer is immune from producing an occasional bad product, but perhaps the number of defective units is statistically appropriate.

I also have Frigidaire Professional series S x S 26cf refrigerator and microwave, and a "Gallery" series ceramic top range. All were purchased in Nov. 2005 and all function as advertised, with no problems.
(03/07/2009)

By jay
Frigidaire Dishwasher Reviews
My husband brought home our $700 Frigidaire dishwasher purchased at Lowe's in December 2008 as a surprise for me and this past week the dishwasher stopped running. When I pushed random buttons and it cleared and started running again, I opened the door and it wouldn't stop running, water spitting out at me and it wouldn't stop. This is a piece of stainless steel junk. I now come into the kitchen to find it randomly running on Sanitize mode with an error message on the front. How dangerous. Must be a basis for a class action law suit or something? (07/12/2009)

Frigidaire Dishwasher Reviews
I purchased a dishwasher less than 2 years ago there was a problem with a gasket and it leaked slowly and started warping my cabinets. Frigidaire took care of the problem since it was a defect and they had a new splash kit. Now 9 months later the same problem again more cabinet damage and they will not fix the problem just offer me a 50% rebate. What is that? So now I can go purchase another dishwasher plus pay for delivery, taxes and installation again, because they has a faulty product. Not to mention my extremely expensive cabinets that have damage in a home less than 2 years old.
(11/16/2009)

By carrie
Frigidaire Dishwasher Reviews
I am really surprised to see so many terrible reviews and most of all the frightening fires.

My wife and I have owned 4 dishwashers, and our two Frigidaires have been the quietest, and gotten the dishes the cleanest, by far. Our 1st was purchased in 02. It was extremely quiet and the only problem was a vibration that kept loosening a screw on the front stainless panel.

We liked it so much that when we moved, we replaced our horrific Maytag dishwasher with an 09 Frigidaire Gallery, model FGHD2471KB. It's so quiet, the only audible noise is essentially water splashing against the sides. Our Frigidaire fridge and front load washer have been absolutely problem-free for years. But I'm a little worried about our dishwasher now. I hope Frigidaire has addressed these serious fire issues. (01/04/2010)

By McFly