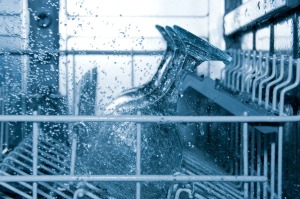 Frigidaire Dishwasher Reviews. I have heard that this brand of appliance, no matter what it is, is subject to many types of problems. would like to hear feedback from anyone who has purchased above brand in the last year.
S Womack from Venice FL
Answers

August 10, 2010
1

found this helpful
Best Answer
I bought my Frigidaire dishwasher model #: FDB1250REC2 3 1/2 years ago. The door that releases the hot air during the drying cycle would not function. The interior of the unit filled with mold.
Our repair guy came out and was not able to fix the problem. Frigidaire did replace the unit at the behest of my repair company. That was two years ago.
The new unit now makes a tremendous humming noise during the rinse cycle, the upper spray arm does not get enough water pressure to operate and water is left standing in the bottom of the dishwasher.
If it's just the pump, I will go through the pain and hassle of fixing it. But, I will never buy another Frigidaire appliance again. This isn't a $20 hair dryer. Sorry, bad example, my hair dryer has been working for 7 years now.
When you pay this much money for an appliance, you expect it to last more than a year or two. I would be embarrassed and out of a job if I performed like Frigidaire appliances. Heck, if I performed as poorly as a Frigidaire, I probably wouldn't have any kids!

September 11, 2010
2

found this helpful
Best Answer
I have had a brand new, Frigidare Professional for about 6 months. I have noticed very irregular cleaning results. Sometimes good cleaning, other times, not. I haven't had a dishwasher so figured it was how I was loading it. I probably should have called my local dealer where I bought the thing. We've been using the gel pellets and have tried two different brands, Cascade and Clorox. Both have similar results, sometimes we find the pellet at the bottom of the dishwasher, barely altered. There are always some dishes that have a film on them.
I thought it was the product but after reviewing soap products (the ones we've used get great reviews) and seeing what people here are saying about the dishwasher, I think perhaps I just got a bad dishwasher. I wish we had researched brands and products before buying the machine.
At this moment, I've run the same load three times and used new pellets each time and the load is still not clean. I hate this machine!
Attached picture is the top shelf after I've run the thing three times.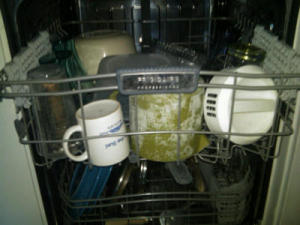 December 22, 2010
0

found this helpful
Best Answer
The wife and I bought our FDBB1940DS0 Frigidaire dishwasher about 6 years ago. We built a new house and didn't want the cheap appliances the builder provided, so we used our old ones (a well used Jenn-Air stove and Whirlpool fridge) and they discounted the house (a little). I installed the newly purchased appliance myself as let's face it, it's not that difficult. A few months of use is all we got out of the unit before it failed and had the potential of burning our house down. I was surprised to find all the problems others have had with no recall or class action law suit against Frigidaire searchable on the net.
Our story goes like this, we had started a load of dishes and ran to the store (I know, not smart with any appliance). When we returned, the house smelled like burning plastic, acrid is the only description I can give it. I finally located the source when I saw my brand new counter (Formica, I invest my money, I don't flaunt it) bubbled up. It had actually delaminated from the wood due to the intense heat emanating from the appliance installed below it. It was so hot it burned my hand when I touched it! Quickly I ran to the garage and threw the breaker and opened the washer to find melted plastic all over the interior. Pools of plastic literally were lying in the screen (also melted) in the bottom of the unit. The wheels in the rails were melted and when I pulled out the top rack it fell onto the door. The bottom spray bar was almost completely melted as well.
At the time I was working a lot and my wife had just returned to work after the birth of our second son so we did not have the time to spend on the phone trying to get service that we would likely have to pay labor on. I simply ordered a few of the parts to get the unit working on a basic level and put it back together knowing I had made a mistake purchasing the unit. I did unplug the drying element and cap the wires so it would not attempt to burn my house down again. It has been running, crippled, in this fashion ever since. Once in a while the dispenser door does not open, and it occasionally leaks and on very rare occasion it actually gets the dishes clean. We always run it while we are at home and never while we sleep. I always run the water at the faucet in the sink until hot water comes out so that I know the washer fills with hot water. If I don't the dishes come out as dirty as they went in.
I wish now that I had pursued this matter further at the time as it sounds as though Frigidaire has some potentially dangerous products out there that may still be in use, like ours! This seems very irresponsible for this manufacture and I will never purchase nor recommend anything from them or their subsidiaries again. I urge you to do the same. If you are not sure of the other brands marketed by Electrolux then take a look here en.wikipedia.org/.../Electrolux#Brands.
Thanks for posting the original, at least I feel better knowing this thread can be searched if anyone ever gets hurt and needs to file a claim. Oh, and I'll gladly testify.
Below is a picture of the appliance as well as one of the melted top rack rollers.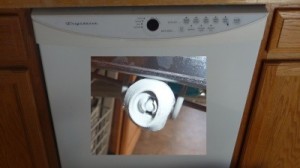 Answer

this Question