I have a Frigidaire Professional fridge and the top ice maker does not make ice while the bottom one in my freezer works. Any ideas on why this would be happening? The water pressure is fine.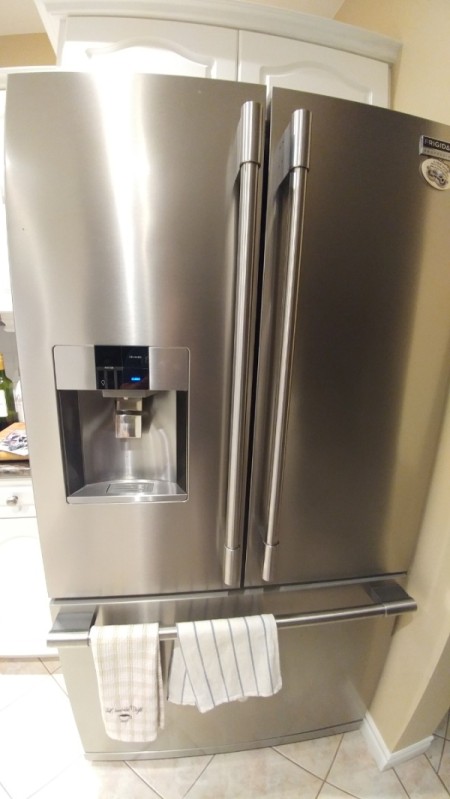 Answers
July 19, 2018
0

found this helpful
One of the water lines may be clogged.
July 19, 2018
0

found this helpful
There may be an ice maker reset.
July 20, 2018
0

found this helpful
Once I do all of my troubleshooting things and it won't work, I go for the big guns and call the company. They usually can give me info that works the first time...or tell me if it needs a pro.
I do this because I learned the hard way that sometimes if you do to much with appliances (fridges, washers and dryers are THE WORST) you end up with a way worse problem than you started and double the bill. So my two cents to help is call the company:
July 20, 2018
0

found this helpful
Thanks but no the water works fine I can dispense water from the front.
July 20, 2018
0

found this helpful
My panel is on the side of the door and I did turn the ice maker off by holding down the on off button but no red light came on it just turned it off, I waited for about 5 minutes and still the bottom ice maker in the freezer works but not the top one. Thank you
Answer

this Question

...
How do I remove the ice maker from a Fridgidaire Electrolux mdl #lfht1831qp0?
Answers
September 17, 2018
0

found this helpful
The name and numbers for your Frigidaire does not show up in the list of refrigerators listed on the Frigidaire website so I was unable to determine the type/model you have. Maybe someone else will have better luck with that.
I did find a support number just in case you need to make a call or send an email message. Very appropriate name on their support website.
Here are links to YouTube videos for 2 different styles so maybe one will be your model.
Very important: be sure refrigerator is unplugged and water is turned off before starting any repairs.
September 17, 2018
0

found this helpful
I found a YouTube video that talks about how bad the ice maker is for all Fridgidaire products.... I usually recommend YouTube videos to do simple tasks...but this one totally made my jaw drop with all the issues people have with these items (it is a cartoon but really scathing--wow!):
www.youtube.com/watch?v=bR-d0FuCGzs
The next video is a little more serious and may have some info of use:
www.youtube.com/watch?v=bR-d0FuCGzs
All of this said, if it is under warranty, leave it be and call the company! Their contact info as it this link:
Answer

this Question

...
I have a Frigidaire ice maker model #M1 SA8868 . It is getting no power on main black wire where should I look? Any help would be appreciated, thanks.
By joeroo from Holiday, FL
Answers
May 2, 2010
0

found this helpful
Have you tried the Repair Clinic? I seem to remember I was able to find information off their website for my Whirlpool.
August 24, 2011
0

found this helpful
The schematic for the unit is probably in a package in the back or bottom of the fridge. If you are relatively handy, you can follow it to end your problem. Of course you should be sure the connections are tight. It may be just that simple.
I installed my icemaker myself and aside from locating the wiring harness, it all came together perfectly. Frigidaire was a little less than helpful in procuring the harness, but I managed to find it on ebay.
The unit is working fine and yours probably will too. Recheck the installation. Good luck.
Answer

this Question

...
December 7, 2013
0

found this helpful
I have a side by side Frigidaire that is about 2 months out of warranty...go figure. I first noticed the water was slowing down and then a few days later I noticed the ice tray was almost empty, but the arm was down to make ice. I checked the water line into the back of the fridge and it had good flow. The filter change indicator never came on, but I changed the filter anyway. I have an under sink RO system so the filter should not need changing anyway. Any ideas?
By Burney
Answers
December 9, 2013
0

found this helpful
Need to check inside freezer where water comes into the ice maker. Sometimes they clog up. May pick up a used ice maker and see if it will work.
Answer

this Question

...
My ice maker is not working; someone said it could be called "water snot". It is a Frigidaire. This just started a week ago. It was making ice, but not full cubes, just partial.
By steve from Baltimore, MD
Answers
August 24, 2011
0

found this helpful
Hey Steve, my icemaker did a similar thing after I installed it. I didn't have time to mess with it right then, but when I got back to it, the bin was full. I think it had something to do with the water line. They can be finicky when first installed, but seem to work themselves out. In any case it is working great now, and were building igloos in PA. Unless a component failed, yours will probably start working fine. Don't sweat it. Just give it a little time. The ice fairy will hook you up. Good luck with it. Iceman
Answer

this Question

...
September 12, 2010
0

found this helpful
My Frigidaire ice maker is cycling, but no water is released into the ice maker. Can the water valve freeze up, or has it broken?

By Terry Dale Looney from Weatherford, TX

Answers:
Frigidaire Ice Maker Not Working
Perhaps the water filter is either clogged, or has been moved about? Or have you moved your refrigerator and perhaps kinked the copper tubing? (03/23/2010)

Frigidaire Ice Maker Not Working
We had the same problem with our Kenmore. Repair person said unplug for 24 hours to defrost the water line. Hope this helps!

Janelle
(03/23/2010)

By Janelle
April 14, 2009
0

found this helpful
Our Frigidaire icemaker quit working and we can't afford another one. Any suggestions? We had installed a new filter about 10 days earlier.

Elizabeth from Hart, Michigan

Answers:
Ice Maker Not Working
I turned my water off to replace a faucet and fix a water line and my ice maker in my Whirlpool side by side quit working too. I got the blow dryer out, took about five min. and my ice maker is working again! Thanks for the help! (03/02/2007)

By Lynn
Ice Maker Not Working
I have a Whirlpool Gold side-by-side and its ice maker stopped working. I tried lowering the temperature and I checked the little black spigot thing for ice, but neither helped. I couldn't figure it out until I removed the ice maker. When I did, I found that it was a broken tab that held on the ejector gear (see www.repairclinic.com for diagrams).

To fix it I tried super glue, but that didn't work. Turns out super glue loses all strength in the freezer. Next I tried some glue I had left over from putting sprinkler pipes together. That held, but just barely, so finally I used a little ball of glue putty like a cap on the end of the tabs. That worked and I now have ice again.

I recommend taking out the ice maker to really see what the problem is. To remove mine I unplugged the frig, carefully removed the little door over the ice maker, unscrewed the 4 hex screws on the bottom of the ice maker, pushed in the little tab on the bottom left of the maker, slid the maker out, and unplugged it. (09/01/2008)

By Jeff
Ice Maker Not Working
Yea! I went here and fixed mine. But I would like to save someone else the trouble I went through. I removed all of the components only to find out if I gently turned the fitting that the water line connects to in the back counter clock-wise it pulls out. And that where the frozen clog was! I am sure all models are not the same so do not try to force your fitting. I have a 2002-2004 Fridgidare side by side with water and ice in the door. The water supply line in the back is green and goes towards the top on the back side. Good Luck. (12/17/2008)

By Corey from FL
Ice Maker Not Working
Check modual gear before calling in expert. (03/27/2009)