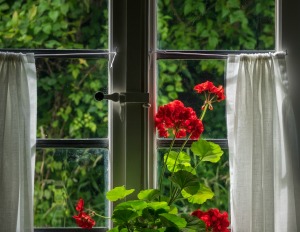 I need some ideas for thrifty curtain rods.

Teacups95 from Fort Wayne, IN

Answers

August 1, 2007
0

found this helpful
Best Answer
The most expensive part of a curtain rod is usually the brackets - so even if you make your own rod, getting some kind of bracket to attach it to the wall will add expense.
Your most inexpensive option is a tension rod -they are usually only around $2 or so. If you have a wide window, look at a shower rod.
Another option - if you don't have heavy curtains and don't need to open and close them too much, is to just thumbtack them about 1-2 inches apart along the top of the window frame, then pull them to one side and tie back to open.
By Paula Jo Carr (Guest Post)
August 2, 2007
0

found this helpful
Best Answer
Feed "dental floss" through the opening of a top sheet, use "eye hooks" to tie off the sides on either side of the window by screwing them into the wall.
I have done this so I know it works. The fabric of course covers the window completely as an eye hook isn't but so deep in depth causing the fabric not to stand out from the window but rather it lies flush to the wall.
Depending on how tight you pull the dental floss to tie off the sheet determines how tight & straight the sheet will hang.
Good Luck!

August 2, 2007
0

found this helpful
Best Answer
I've used PVC pipe down the plumbing aisle. I've also made my own brackets from this department too, with angles, etc. to mount right into the wall. Cheap and who knows the difference? I've then bought cheap finials, painted them and place then in the end if the PVC pipe.
Also, you can use a branch - looks nice in a boy's room.

August 2, 2007
1

found this helpful
Best Answer
The most beautiful curtain rods I ever saw were made by my stepdad in Norway. He simply walked into the meadow behind the house and selected a fairly straight birch sapling, and cut the branches off leaving a couple of inches attached to the main stem, just for a spiky look.
He dried it over the woodstove, sanded it a bit without removing the bark, and my Mom sewed extra-roomy tabs on the top of the curtains. It looks so awesome and natural, and didn't cost a speck.
By (Guest Post)
August 3, 2007
1

found this helpful
Best Answer
I have a swag hung by a small grapevine wreath in each corner of the window. I decorated the wreaths with only a bow.

January 21, 2011
1

found this helpful
Best Answer
So after looking at these and other comments and suggestions, I was searching my house for something fun to hang up my curtains with. I didn't have a lot of money or tools to make some of these ideas work. So I searched my house for something, I wasn't sure what but I knew I would find it eventually. I was looking out in my back shed for a tool (for a different project) and it hit me, literally. Well I tripped over it, it was a golf club. I looked at it and saw I had an old set of golf clubs just sitting here.
I looked at the length and It was perfect!I ran to the store bought some silver J-hooks (for about $2.00) from Wal-mart screwed them in. They were the Medium sized ones, not small nor the HUGE hooks. About the size of a quarter. Then I slid the golf club through the holes and placed it on/through the J-hooks. One helpful hint, make sure the side with the handle of the club is not quiet screwed in all the way or it will not fit. Good luck!
Answer

this Question