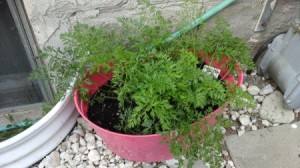 I've been on my own now for four years, a single parent turned "empty nester", and living on a disability pension. Here are my tips.
When I shop for meats, I buy large roasts on sale: pork, whole chickens, sausages, ground meats, etc. These are cut to meal sized portions and plunked into freezer baggies with spices; Thai, Mexican, Italian, you name it! I label the baggies and toss them in the freezer.
I've done the same buying cartons of egg-whites when they are marked down. Mix-up spices, chives, etc, pour into butter sprayed muffin containers, bake, cool and put into baggies. Of course, the freezer is next!
My farming is in containers and small garden patches. I have celery and cabbage from rooted previous purchases (eaten first of course), carrots, cucumbers, eggplant and yellow zucchini. Yum! This year I got a bag of lovely large tomatoes from friends.
Foraging is something to take advantage of, and I do! Wild apples and pears from a couple of old trees in a field where I walk my dogs. The apples are tart and together they make a wicked sauce, into my freezer in small containers of course.
Life is all about challenges, but I make the best and have a good time with what I've got!