Saving Money on Food
Solutions
Share on ThriftyFunThis guide contains the following solutions. Have something to add? Please share your solution!
I've been on my own now for four years, a single parent turned "empty nester", and living on a disability pension. Here are my tips.

When I shop for meats, I buy large roasts on sale: pork, whole chickens, sausages, ground meats, etc. These are cut to meal sized portions and plunked into freezer baggies with spices; Thai, Mexican, Italian, you name it! I label the baggies and toss them in the freezer.
I've done the same buying cartons of egg-whites when they are marked down. Mix-up spices, chives, etc, pour into butter sprayed muffin containers, bake, cool and put into baggies. Of course, the freezer is next!
My farming is in containers and small garden patches. I have celery and cabbage from rooted previous purchases (eaten first of course), carrots, cucumbers, eggplant and yellow zucchini. Yum! This year I got a bag of lovely large tomatoes from friends.
Foraging is something to take advantage of, and I do! Wild apples and pears from a couple of old trees in a field where I walk my dogs. The apples are tart and together they make a wicked sauce, into my freezer in small containers of course.
Life is all about challenges, but I make the best and have a good time with what I've got!
Sandy Baker
2

found this helpful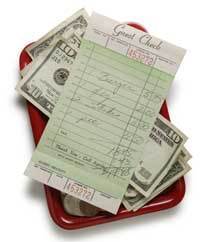 Do you think that you don't eat out much but can not figure out just where you money is going? It's time to do an experiment to find out just how much you are eating out, how much it is costing you and how much you could have saved by making that meal at home. Did it save you time? Probably not. Did it give you a healthier meal? Most definitely not. So, what's the point in going out to dinner again?
Meet Ann
Ann is a very busy woman. She is married to Aaron and the two have three children. Since they are working most of the time, they often find themselves ordering out, ordering in or eating at a restaurant a few times per week. Yet, is this costing them anything?
To find out, Ann decided to track how much they spent on eating out in just one month. In fast food stops, the family would spend about $20-$25. If they went to a family style sit down dinner, though, they would spend from $40 up to $60 or more. If they ordered in, it could range from $20 to $35. Al in all, it was costly. In one months time, Ann determined that they were spending about $375 per month on eating out.
But, this doesn't tell us if in fact it would save money to make foods at home. To figure this out, Ann decided to try to make some of their favorite dishes at home to see how much it would cost them.
The kids love chicken fingers, fries and grilled cheese. Sometimes they ate pasta too. Here's the breakdown:
Chicken fingers: At the local supermarket, 1 bag that was large enough for 2 meals was $5.50.
Fries: 1 pound bag, good for one meal, $3.79
Grilled cheese, 99 cents for a loaf of bread, $3 for a chunk of cheese.
Pasta: $2 for one full pound of pasta, sauce was only 99 cents!
To eat this meal at home, they would have saved considerably. Ann found that the foods she ate at home were also less expensive to make than the fast food location.
Time? Where's The Time?
If you are not sure that you can find the time to make dinner every night, or you feel that you are just too tired to do it, you need to consider a few simple solutions. Here are some that will reduce the number of times you eat out.
Get into a habit of pulling something out in the morning for dinner that evening. When something is defrosted, you are more likely to use it.
Use your crock pot in the morning. Fill it with great stew, soup or a variety of other meals. When you come home, it is done for you.
If you are cooking tonight, make enough for two dinners, freeze one for a night when you are just too tired to cook.
Cold cuts work! A salad, sandwich and a vegetable work just fine for dinner too.
How much are you spending by eating out? Find out and start saving your money!
I have a restricted diet. I admit sometimes it get boring to eat the same type of food so I have been trying to change it up some lately. Summer is the perfect season to get fruits and veggies, but even frozen things can be fresh.
Read More...
One way to lower your food bill is by shopping at several stores, but not just grocery stores. If you are fortunate enough to have a bakery outlet store in your area, you can find great deals on everything from bread and buns to tortillas and cakes.
Read More...
April 16, 2005
0

found this helpful
Don't shop on impulse. Skip impulse food buys. Stop & consider the size of your family. Will this product go to waste by not getting eaten?
I read recently where 25% of food purchases get thrown out.
Read More...
I have 3 boys who already eat a lot. I've found a few ways to "stretch" foods to help with our grocery bill.
Read More...
My family drinks 1% milk. My husband accidentally bought whole milk. My children complained that it was "thick" and they didn't like it at all. I diluted it with water and they were able to drink it.
Read More...
I found a site at the US Dept. of Agriculture called the recipe finder. If you're trying to stretch your food dollars this is an excellent place to find recipes.
Read More...
It's summer, grow stuff! You don't need a garden. I grow vegetables in containers outside my back door.
Some is eaten as it's picked, the rest becomes soups, sauces, cakes, etc. for the freezer.
Read More...
February 24, 2005
0

found this helpful
A good way to cut down on your grocery bill is to eat more recipes containing beans, grains and rice instead of meat. Beans, grains and rice are much less expensive per pound than most kinds of meat.
Read More...
June 21, 2000
0

found this helpful
I know how hard it is to get the food budget under control. I have made changes over time, some have worked well, some are so-so.
Read More...
I have gone to the library used book sales and have purchased some Better Homes and Gardens cookbooks. They are older ones, but have good recipes for great meals, desserts and ways to stretch a budget.
I also continue to cook a large meal and freeze some of it in individual meal containers. My husband is a truck driver and gone several days to 10 days at a time. He is able to eat a home cooked meal and saves a lot of money eating out. He also collects points on several cards when filling up his truck that allows him to eat out with little or no money when he wants a restaurant meal. I also make homemade banana bread in smaller loafs that he is able to take with him. (They freeze nicely)
I do a lot of baking from scratch. I know there are some that don't do this but it is economical, especially in hard times when money is tight. I have a stockpile from the past that helps and just have to replace when low.
By Kelly from Idaho Falls, ID
Related Content