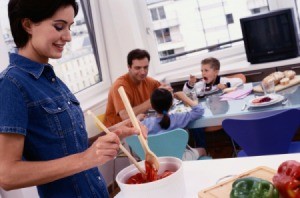 I only have $400 to feed my family of 4 (myself, partner, and my two toddlers). I don't mind having to bake, do once a month cooking, and searching/using coupons. I know this one woman who has a family of five and spends $500.00 a month. I don't know how she does it. I would like for these meals to be healthy too. Any good ideas?
By Krystal from Kenora, Ontario
Answers

Stephanie
Bronze Post Medal for All Time! 162 Posts
January 16, 2011
0

found this helpful
Best Answer
I feed a family of 5 on around $450 a month. We enjoy a rich, healthy, varied diet. I shop at WinCo (similar to CubFoods and Food4Less) and get a few things at Costco.
The trick is planning. Each week I make a menu and we stick to it. We cook all of our meals (besides two leftover nights a week) and rarely go out to eat. I shop the perimeter of the store and avoid packaged chips, crackers, and prepared meals as much as possible. When I do buy canned or boxed foods, I check the price/oz. and get the best deal. The kids know we only get cereal when it's less than $2 a box (I have an extra stash in the garage). I buy spices, beans, pasta, and rice from the bulk section. We eat a lot of fresh fruits and vegetables (at least $7 in apples a week), and I do spend a little more to get whole-grain wheat breads, brown rice, and wheat pasta (I'm on Weight-Watchers and have lost 85 lbs., so whole grains are a priority). We also get a 1/4 beef once a year, which is less expensive than buying it at the store and means we always have meat in the freezer during the leaner months.
I also try really hard to avoid food waste - make sure I only buy food we're going to eat and freeze any leftovers we're not going to eat right away. You can save a lot of money when you don't buy food that doesn't get eaten (and have quick meals in the freezer to eat when you would have grabbed fast food). I got some good thermos containers for the kids to take to school for lunch. This gives them the option of having hot leftovers, which adds a lot of variety to their lunches and is much less expensive than the school meals.
A final way I save money is to make a list and stick to it and avoid taking the kids to the store as much as possible. I find that I spend at least $20 more if I have them with me, so I try to go after they are asleep. I sometimes go in the afternoon with my pre-schooler and he usually ends up with a fruit roll-up and box of crackers, despite my best efforts to stick to the list and avoid "that" aisle :)
There are A LOT of recipes here on ThriftyFun for interesting, inexpensive meals if you need ideas. Soups are particularly thrifty this time of year.

February 23, 2011
0

found this helpful
Best Answer
Those who have said "menu plan" are right. It's a must for sticking to a solid budget and keeping your food costs down. Grow a garden! Even in the city you can do a garden, raised beds or in ground, depending on your soil. Check out the book Square Foot Gardening for good tips. You can probably find it at your library.
I work at a supercenter and know food prices, I know fresh fruit is expensive, so buy in season fruit & vegetables and learn how to can or freeze the extras. Avoid the frozen foods aisles. Sometimes the boxed foods (like HB helper & Chic Helper) are not expensive, especially on sale, and are nice to have a couple in the cupboard when you're short on time, but from scratch is the most nutritious and cheapest way.
Learn how to buy whole chicken and cut it up, if you live where you can raise your own, do it, nothing beats fresh chicken & eggs.
Avoid clipping coupons for things you wouldn't normally buy, like brand named soups, boxed foods, etc. I find that you spend more money than save when you buy coupon things that are not normally on your shopping list.
Cook double portions of things that freeze easily, like beans, soups (without noodles), make a couple pans of lasagne at a time and cook one, freeze the other one uncooked. Buy your meats in bulk when you can.
PRICE MATCH your items. Walmart Supercenters will price match their competitor's ads (not on-line, only locally in print ads) so save yourself a few trips around town and shop at one store, but bring your ads with you. Other grocery stores will do the same thing, so shop where you're most comfortable. I know my store, so that's why I'm sharing it.
Find your local dollar stores, scratch & dent stores, discount groceries, etc., and shop there from your list FIRST. This is especially good when you know the regular and sales' prices at other stores ahead of time. I know my scratch & dent grocery has a higher price on 2 ltr bottles of soda, so I don't buy it there (which is rare I buy any at all, this is an example), but I do like to buy my frozen meats and vegetables there, as I know their prices are lower, and I know that many of their suppliers also supply restaurants, so the food I'm getting is "restaurant quality" which is a higher quality than what you get at a grocery store (sad but true).
Do you have an Aldi's? They're great, too. For Dollar Stores, my favorite aisle to shop is the spice aisle. I usually get my spices for about 1/4 the cost at a grocery store. The brands are off brands, but just as good. I think the biggest secret to cooking from scratch is having a well-stocked spice rack. It's expensive to buy spices, but your food is much more flavorful if you have good spices, so make sure you stock up on a variety. Terragon, Marjoram, Cumin, Coriander, garlic powder & salt, onion powder & salt, seasoned salts & peppers, etc. You can also build yourself a little herb garden and grow many of these yourself very easily, and then learn to dry them.
I recommend trying to get your hands on a copy of Artisan Bread in 5 Minutes a Day, too. Great resource and easy instructions for making bread in literally 5 min.! I use it several times a week and always have bread dough in the fridge.
I have many more tips, but this is getting long. I have three teenagers at home, plus me and my hubby, cats, dogs, horses & a bunny to feed, too, so keeping my grocery bill down is essential to our family's financial strength. Best of luck, and if I think of some more "must have" tips, I'll post them later.
Oh, I second what someone said earlier, don't take hubby or kids with shopping, don't shop hungry, and make a list and stick to it. :)

January 16, 2011
0

found this helpful
Great ideas cs_jag, also stay away from microwavable meals and prepackaged meals. Just about every thing can be made homemade, especially those hamburger helper type meals, save all left over veggies in the freezer. When you get a bunch make soup, cut back on the amount of meat to actually portion sizes, and chop everything small, stay away from chips, soda etc, spend that money on fruit and veggies, buy regular carrots instead of the 'baby carrots', I could go on and on...

January 17, 2011
0

found this helpful
Potatoes, eggs, and bananas are some of the cheapest and most nutritious foods out there.
Here's my suggested list:
Eggs
Potatoes
Onions
Carrots
Flour and yeast (to make bread)
Chicken legs and thighs
Dried beans
Peanut butter
Bananas
Raisins
Box of dried milk (you can use it in baking and tea, and will help to minimize trips to the grocery store)
And you might think about container gardening - you can grow lettuces, herbs, and other veggies in containers in your kitchen. Good luck!
Just FYI, you can make a nutritious, very inexpensive chicken soup with 1 small onion, 1 chicken leg/thigh, 1 carrot, and some potatoes. It's not the heartiest soup out there, but it will do the job. :)

gem
Bronze Post Medal for All Time! 163 Posts
January 18, 2011
0

found this helpful
Check and see if you are eligible for food stamps.
Secondly, make a menu and start cutting out snacks that are not nutritious. Make a couple of meatless meals a week. Always add pasta, rice or potatoes to your menu with breads. These are filling and will satisfy anyone. Cut out foods that you cannot afford. Shop all sale items and watch how much something is per pound. This will help you decide your best value. Buy in bulk if possible. Substitute cheeses for meat. Make homemade as much as possible.
Try a soup and salad night. Add bread to the menu and keep drinks to water or kool aid.
Coupons will help but if you have to buy 4 of something and do without something else it is not a good value for you.
Buy marked down canned vegetables and dairy products that are still in date and use them for your meals.
Saving money is always hard. I wish you much luck in this day and age.
Gem

Lilac
Silver Feedback Medal for All Time! 450 Feedbacks
January 18, 2011
0

found this helpful
Since your children are small, I suggest you make sure you have the food they need first. Condensed milk (not the sweetened kind) is cheaper than fresh milk and won't spoil on the shelf. Give your children the whole milk kind. You can cook with it too. Remember it gets a can of water added to it. Stay away from processed meals and learn to cook from sctatch. Since you have the internet you can look up many simple money saving recipes on line. I hope your partner is willing to make sacrifices for the sake of your two children.

January 18, 2011
0

found this helpful
There is a website called Hillbilly Housewife that gives low cost recipes & ideas:
www.hillbillyhousewife.com/70dollarmenu.htm
www.hillbillyhousewife.com/40dollarmenu.htm
Also, Frozen Assets Yahoo group has just been discussing feeding your family on a budget. You have to join the group, but they have great meals to make ahead & freeze if you want. Join it & read the messages posted in the last couple of weeks to get some good ideas for low cost meals:

January 22, 2011
0

found this helpful
My mother had to feed 5 kids plus my dad on a minister's salary. We were well fed but she cooked everything from scratch. 5 kids have bottomless stomachs so there were always plenty of potatoes (skin on) to fill us up.

March 12, 2011
0

found this helpful
Years ago I started buying more dried beans, peas (both green and yellow) lentils (both red and green) lima beans and red kidney beans. These are very good in the diet as they are fairly high in protein and there are numerous imaginative yet inexpensive recipes for using them.
Answer

this Question