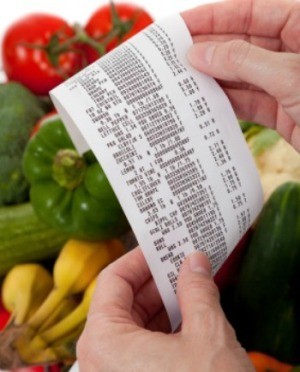 I was in the grocery store yesterday and was talking with a lady in the dairy section about the rising cost of food. She was very upset that her kids were eating her out of house and home. She just was not able to keep up with feeding them with the rising cost of food. Her buggy was loaded down with convenience food items and there were no coupons in sight. I asked her if she minded if we discussed what she was buying. She was very eager for help.
So we talked about cheaper snack items she could be choosing that would be more filling than the pizza bites and the pot pies. We also talked about filling dinners that could be turned into snacks.
I also suggested that she should actively involve everyone in food prep and the problem of rising food cost. I told here there is nothing wrong with making them own up to the cost of feeding them.
The number one cost a lot of time is due to waste; let them know that waste will not be tolerated. I told her not to go cold turkey from the usual items but to gradually cut back buying the prepackaged items.
The following are some suggestions that I gave her:
Old fashion pop corn can be popped in the microwave (add all different kind of flavoring). Have a contest. Stored in a zip lock bag popcorn will keep a few days.
Leftovers meat each night combined with other items such as cheese, cottage cheese, beans, corn, spaghetti sauce, etc. and rolled into small flour tortillas and frozen individually. Bag these once frozen into a gallon zip lock bag. Microwave a few minutes.
Next time she has spaghetti: Mix up some home made pizza dough same time. After dinner make up individual pizza with dough and top with sauce and freeze each individually and put in a sealed container. Top each with different leftovers over then next couple of days. This can be a "free" meal or a good after school snack.
Boil up a dozen eggs at a time
Pickles - sweet or dill
Saltine crackers and peanut butter (mix with a little jelly to stretch).
Bag of apples - can eat plain or sliced an apple and drizzle with peanut butter and jelly (my daughter preferred to do this for school lunch).
Oatmeal - make up some granola bars (very cheap).
Un-sweetened cereal, popcorn, some kind of cheap smaller chip makes a good substitute for a bag of chips
Potatoes - make up a lot of baked potatoes, scoop out the insides and whip with goodies such as left over bacon, cheese, beans - refill and freeze.
Kool aide - very cheap - I don't make mine as sweet as the directions (too much sugar)
Tea - gradually reduce the sugar
My last suggestion was ThriftyFun. Everyone here is great, and I get some really good frugal ideas.
I could come up with more but we were in the middle of the grocery store.
Thanks everyone!

By Meemaw
Comments
Read More

Comments