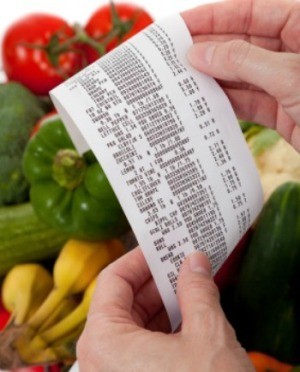 I was in the grocery store yesterday and was talking with a lady in the dairy section about the rising cost of food. She was very upset that her kids were eating her out of house and home. She just was not able to keep up with feeding them with the rising cost of food. Her buggy was loaded down with convenience food items and there were no coupons in sight. I asked her if she minded if we discussed what she was buying. She was very eager for help.
So we talked about cheaper snack items she could be choosing that would be more filling than the pizza bites and the pot pies. We also talked about filling dinners that could be turned into snacks.
I also suggested that she should actively involve everyone in food prep and the problem of rising food cost. I told here there is nothing wrong with making them own up to the cost of feeding them.
The number one cost a lot of time is due to waste; let them know that waste will not be tolerated. I told her not to go cold turkey from the usual items but to gradually cut back buying the prepackaged items.
The following are some suggestions that I gave her:
Old fashion pop corn can be popped in the microwave (add all different kind of flavoring). Have a contest. Stored in a zip lock bag popcorn will keep a few days.
Leftovers meat each night combined with other items such as cheese, cottage cheese, beans, corn, spaghetti sauce, etc. and rolled into small flour tortillas and frozen individually. Bag these once frozen into a gallon zip lock bag. Microwave a few minutes.
Next time she has spaghetti: Mix up some home made pizza dough same time. After dinner make up individual pizza with dough and top with sauce and freeze each individually and put in a sealed container. Top each with different leftovers over then next couple of days. This can be a "free" meal or a good after school snack.
Boil up a dozen eggs at a time
Pickles - sweet or dill
Saltine crackers and peanut butter (mix with a little jelly to stretch).
Bag of apples - can eat plain or sliced an apple and drizzle with peanut butter and jelly (my daughter preferred to do this for school lunch).
Oatmeal - make up some granola bars (very cheap).
Un-sweetened cereal, popcorn, some kind of cheap smaller chip makes a good substitute for a bag of chips
Potatoes - make up a lot of baked potatoes, scoop out the insides and whip with goodies such as left over bacon, cheese, beans - refill and freeze.
Kool aide - very cheap - I don't make mine as sweet as the directions (too much sugar)
Tea - gradually reduce the sugar
My last suggestion was ThriftyFun. Everyone here is great, and I get some really good frugal ideas.
I could come up with more but we were in the middle of the grocery store.
Thanks everyone!

By Meemaw
Comments
April 5, 2010
0

found this helpful
Top Comment
Thank God for what you did for that lady! I have always been a thrifty consumer. I buy meat on sale, and if I don't use it immediately, I put it in the freezer. When it's time, if I don't have a lot of time, I put the meat on the stove in a pot, add water, and cook it that way, then I put the pot in the fridge, and skim all the fat off the next day. Then I make a meal out of it.
I've noticed noodles being expensive in the stores, I have a recipe for homemade noodles. Also, I stay away from all the "prepared foods," I've noticed they don't satisfy my hunger like my own home made foods. And that could be a reason the kids are always hungry.
One time, my neighbors relatives kids came over, and said "We're hungry. Do you have any ice cream or other snack?" I gave them a little snack, then asked them what they'd eaten. They said their mom took them to a fast food restaurant, and fed them. When their mom showed up, I asked her about it, and she was seemingly innocent, and did not understand that taking her kids for a fast food meal was not the way to keep them filled up.
I honestly don't understand all of the fast food meals, because I grew up on basic, home cooked meals. And after eating some fast food meals, I can tell you, that home cooked meals are much more satisfying, and full of more nutrients, than fast food.
While studying, and on my own, I started buying frozen food dinners. After a few days, I needed to eat at least two frozen food dinners, rather than one to satisfy my appetite. I started finding chicken in the store that had a lot of recipes for the oven, and used those instead of the fast foods.
Now that I am older, I much prefer cooking at home to fast foods.
I hope you mentioned fresh veggies, fruits, and nuts for kids to snack on, rather than those other snacks.
September 19, 2013
1

found this helpful
Top Comment
Buy fresh veggies when on sale and freeze. I buy fresh mini portbello mushrooms pre-sliced and just pop them in the freezer in the package they come in. I bought tons of broccoli when it was $1.00 a pound chopped it all up and put it in gal. bags, no pre cooking needed.
I make large pots of chili we eat it for 2 days and the rest goes in the freezer in single serve containers. same with soup make it once have it many times. any left over veggies go in the freezer so next time I make stir-fry, those veggies can be added, add some pasta to it and stretch it even farther.
If I use something like Bird's Eye garlic chicken meal, if I add a bunch of broccoli or whatever veggies I have in the freezer to make it a bigger meal, then we have it for lunch or dinner the next day.
Make your own stroganoff = brown 2 lbs of hamburger, add a package of mushrooms and some chicken broth, some paprika and just before serving stir in some sour cream, simple, feeds a lot of people. a little salad on the side. I always freeze the leftovers even if I plan on eating it the next day, that way if I change my mind it's all taken care of. Hope that helps.
October 19, 2014
0

found this helpful
Top Comment
I have been thinking about holding a workshop on "How to make your SNAP benefits last a whole month." Checking your receipt, knowing WHEN to shop, choosing store brands over named brands, are all good tips. Maybe knowing how to work the corporate game is the most important thing.
One important way to limit the cost of snacks is to put some in a bowl, not eat out of the bag.
I wish we'd get over using the word "cheap" and use "inexpensive" instead. Good, healthful food is like money in the bank! Feed your family well and you will remain well. Cut corners on anything but food and education.
April 2, 2010
0

found this helpful
What great tips you gave her! It was very kind of you to help her.
I worked in a grocery store several years ago, and my husband has since he was 16 (he is a meat department manager), and we both lament how much money people waste buying convenience foods. Many people would sigh and moan about the high cost of groceries while filling their buggies with Lunchables, pre-packaged snack cakes, name brand cookies instead of store brand and those wee-tiny super-expensive frozen dinners made for children. No wonder!
I wish that there was some way to inform folks en masse on how to be a thrifty shopper... too bad not everyone comes here to thrifty fun!
Read More Comments