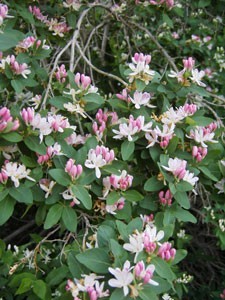 Honeysuckle In Bloom
The honeysuckle is just at its peak right now, so I thought you might enjoy this close-up image. The one-inch blossoms are literally covering the branches of our two bushes, which have grown to about 10 feet in height.
By Coreen

Answers:
Garden: Honeysuckle In Bloom
Thank you for sharing. It's beautiful. I'll bet the humming birds are happy to see it in bloom! (06/26/2008)

By Lisa Adams
Garden: Honeysuckle In Bloom
Those are so beautiful, thanks for sharing!
Lisa in Indiana (06/26/2008)

By Lisa
Garden: Honeysuckle In Bloom
Wow, very pretty! (06/27/2008)

By roxi
Garden: Honeysuckle In Bloom
Got some questions please I love honeysuckle bushes and they smell so great. First where did you get the plant and also where and how far did you plant from your house we have a small/medium back yard and are they easy to grow. (07/03/2008)

By Barbara Snyder