Garden Safety Tips

EllenB
Gold Post Medal for All Time! 858 Posts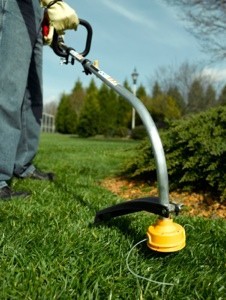 Gardening may seem like a low-key leisure activity, but it involves a lot of tools and at times, a lot of physical effort. Each year hundreds of thousands of people visit the emergency room for gardening related injuries. Don't be one of them. Here are some tips to keep yourself safe and injury-free while working in your yard and garden.
Avoid Over-Exposure (Sun and Heat)
On hot, sunny days, try not to work in the yard and garden during the hottest parts of the day (10 am to 2 pm). Instead, work in the yard and garden during the early morning and early evening hours.
Follow the sun. Plan your garden chores so that you're always working in a shady part of the yard. This may mean splitting up tasks so that you're working on them in several sessions, but for shorter periods of time.
Cover yourself. Long sleeves and pants in a lightweight cotton are not as hot as a sun burn. Don't forget the wide-brimmed hat and gloves. If you must wear shorts and short sleeves, cover exposed skin with sunscreen in the highest SPF you can find.
Take frequent water breaks to keep yourself hydrated. Pay attention to signs of overheating like nausea, dizziness, headaches, or high body temperature.
Reduce Muscle Fatigue
Warm up. Do some simple stretching exercises to warm up your muscles before starting a physical task.
If you have knee, hip or back pain, use a bench or bucket to sit on while weeding.
Don't lift heavy items like concrete blocks, large potted plants, or bags of soil by yourself. If lifting something alone is necessary, use a dolly or wheelbarrow to move heavy loads, and make sure you bend from your knees and hips, not your waist.
While doing repetitive tasks like weeding and raking, spread it out over several days if possible. Then take frequent breaks and change your hand and body position often.
Use ergonomic hand tools that are easy to grasp and designed to put less stress on muscles and joints.
Precautions for Mowers, Trimmers, Chippers, and Other Power Tools
Know how to operate all of your equipment before using it - especially how to shut it off in an emergency. Never remove or disable safety guards or devices on your equipment.
Before you mow, free the yard of sticks, rocks, nails, wire, and other debris that can be ìthrownî by your mower.
Always keep children and pets well away from mowers, trimmers, chippers, and other power equipment. Never allow them to ride along as a passenger on riding mowers.
Always keep your feet, hands, and other body parts away from the moving parts when your equipment is running. Never attempt to make adjustments or free jams while the motor is running.
When mowing and trimming, protect your legs with long pants and wear shoes with nonskid soles that completely cover your feet.
Don't use mowers, trimmers, or other power tools at night, during bad weather, in the dark, or when the grass is wet.
Be aware of your surroundings. Don't assume children or pets are going to stay where you last saw them.
To protect against electrical shock, use a ground fault circuit interrupter (GFCI), and always make sure extension cords are in good condition and rated for outdoor use.
Store gasoline in approved containers, and wipe spills up quickly. Never smoke around gasoline or fill up your gas tank while the engine is running.
Properly clean and service your equipment so that it is in good working condition when you want to use it.
Prevent Falls
Avoid carrying heavy loads or operating power equipment while walking on uneven or slippery surfaces.
Install railings or extra lighting in areas where surface levels abruptly change like slopes and steps.
Store hoses and ladders properly after use to avoid tripping over them.
Rakes should be stored upright or laid on the ground with tines facing down.
Always use the right ladder for the job.
Place ladders on flat even surfaces and never on top of another object.
Don't climb higher than the second rung from the top on stepladders or the third rung from the top on straight or extension ladders.
Handle Poisons Carefully
Before buying chemicals, think about whether or not there is another (chemical-free) way to accomplish the same task.
Keep chemicals in their original containers and properly dated and labeled. When it's time to dispose of them, take them to the nearest household hazardous waste drop-off site for proper disposal.
Always keep the phone number of the poison control center handy. In an emergency, look on the container for medical information and first air instructions.
Always store chemicals according to manufacturer instruction, in a secured area that is inaccessible to children and pets and away from food products.
Use according to label directions. Use in a well-ventilated area while wearing gloves and eye protection. Wear a mask to avoid inhaling dangerous fumes. Don't use chemicals near children or pets.
After use, wash your hands and clothing immediately.
Never pour chemicals down storm drains, household drains, or in toilets where may end up in the local water supply.
Avoid Insect Bites and Stings
Wear neutral colored (not bright) clothing while working in the yard and garden.
Avoid wearing perfumes, colognes, and strong-scented soaps and shampoos while working in the garden, and avoid mowing lawns or working with flowering ornamentals when bees and wasps are collecting nectar.
Don't walk barefoot in the yard.
Keep soft drinks and fruit covered while outdoors. Pick fruit as it ripens and dispose of rotten fruits.
Comments
Read More

Comments
Categories
Pages
More
Categories
Published by ThriftyFun.
© 1997-2022 by Cumuli, Inc. All Rights Reserved.
https://www.thriftyfun.com/Garden-Safety-Tips-1.html