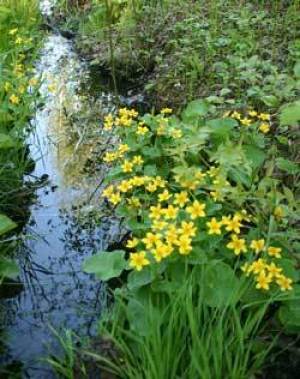 Native landscaping is the process of cultivating plants that are indigenous (native) to your area. One hundred and fifty years ago, before European settlement, prairies, woodlands and savannas covered most of our North American landscape. Through years of farming and urban development, we have altered and replaced most of our indigenous plants, sometimes by accident, sometimes on purpose.
Some of these plant replacements have become invasive and taken over, suppressing the ability of our native plants to thrive. These "exotics" create a uniform habitat that is often not utilized by native insects, animals and birds. Reintroducing native plants into your garden or landscape design can help bring back your area's natural heritage and restore the ecology of the local environment.
The Benefits of Native Landscaping
Natural plantings provide food, cover and breeding habitat to native butterflies, songbirds, aquatic plants and animals. They restore habitat that has been lost to the impact of urban development.
Native plants are more naturally suited to local environmental conditions. This lessens our dependence on chemicals like fertilizers and pesticides.
Native plants are better adapted to environmental stressors, which means they take less work to maintain. They are more drought-tolerant than exotic plants species, which reduces the need for irrigation. Less mowing helps reduce air pollution.
Native plants are well adapted to seasonal conditions, making them more tolerant of bitter cold winters and hot, dry summers.
Native plants are better adapted to environmental stressors, which means they take less work to maintain.
Native plants absorb rainfall more efficiently, reducing runoff of chemicals into local lakes and streams and the loss of beneficial nutrients.
Native landscapes are dynamic. The shapes, colors and textures of plants vary from week to week and season to season and reward the senses with a more varied landscape.
Native Plants and Design Choices
Before you invest your time and resources on native plants, it pays to do a little planning. A well-planned landscape is a valuable asset to your property. Start by drawing out your landscaping plan on paper. Your particular site characteristics will determine which native plantings will be most successful.
Convert small, infrequently used areas of your landscaping to start with. Consider incorporating native trees and shrubs into your existing landscape. Create small islands of plant communities or replace a high maintenance perennial garden with a butterfly or prairie garden.
Discuss your new landscaping ideas with your neighbors. Inform them of the benefits of native plantings and inspire them to experiment in their own yard.
Create a fence or border around your new plantings or post a small marker to define the space (e.g. "native wild flowers"). This will help you neighbors feel more at ease with your new and different approach to landscaping.
Respecting Local Ordinances
Some communities have "weed laws" designed to prevent the hazards associated with letting property become overgrown (vermin, etc.). Landscaping with native plants will not create the hazards these laws were designed to prevent.
Many communities are currently modifying "weed laws" to accommodate native plantings. Although they may require a setback or buffer strip to make the landscape look "planned," many are now promoting native landscaping because of the environmental and economic benefits it provides. Make sure before you convert your entire lawn to native plants, that you check with local city officials regarding any landscaping ordinances or restrictions that might be in effect.
Finding Native Plants
The best place to find native plants is at a nursery that specializes in growing them. Before visiting the nursery, spend some time researching what types of plants are native to your area, and be prepared to ask the grower the following questions:
Are the plants grown locally or shipped in? Locally grown plants are best suited to your local conditions.
Have the seeds been propagated in a nursery or collected from the wild? In order to protect our natural areas, it's preferable if seeds from native plants are not collected from the wild.
Where will the native plants grow best, in the sun or the shade?
What soil type is required? Is it sandy or loamy, wet or dry?
Which native plants will grow well together in your yard? Do these plants grow together in the wild?
Will the nursery help with installation, and if so, at what cost?
Once your native landscape has a chance to become established, you may wonder how you ever lived without your new plants. You'll be amazed at the beauty and interest that your new landscape provides and you may even inspire your neighbors to give it a try. Best of all, you'll be able to spend less time and money maintaining your garden, and more time enjoying it.