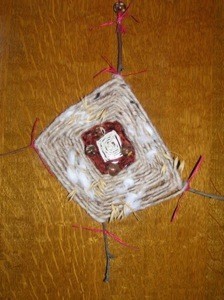 Why not use garden twigs and other litter to make some nature crafts. It's a free resource and what's more, you can create some really unusual designs for the home - a great way to bring the outdoors into your living area!
By Anne from United Kingdom
Comments
February 8, 2010
0

found this helpful
Top Comment
I love the God's Eye you made from your garden. Zig
Kelly Ann Butterbaugh
0

found this helpful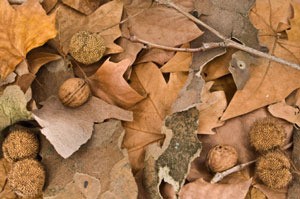 As the autumn months pass by, many of our yards are filling with free craft supplies. Be sure to take advantage of the plentiful offerings of nature. Your kids will thank you for it.
You're Nuts!
Acorns, walnuts, chestnuts-tree nuts are falling on the lawn begging to adorn children's craft projects. Care must be taken to preserve them for future projects. Seal them tightly in freezer bags or seal them in food preservation bags. They can also be dried for a longer lifespan.
Ideas include gluing acorns around a picture frame. Another idea is to gather loose bark, sticks, dried hay, and acorns to make nature collages and photo frames. Take a paper towel tube and cover it with bark and add natural decorations to make a unique dried flower vase.
Leave It To the Kids
Don't miss the opportunities that autumn's leaves offer. Take the kids outside and gather the leaves for projects or enjoy the autumn weather and finish the projects outside. Leaf rubbings are always a favorite. Try to make pictures from the rubbings, adding limbs to the rubbings to draw leaf men. Glue children's photos to the leaves to create a family collage for the season.
Grown-up crafts include filling a shallow basket or bowl with the leaves and adding natural potpourri to make a pleasant autumn arrangement. Pressed leaves, laying them in wax paper between the pages of a heavy book, can be saved for decoupaging or framing.
Sticks
While cleaning the yard, gather the smaller sticks, especially those with interesting shapes and turns, and save them for later. A few natural sticks add to flower arrangements throughout the year. For winter arrangements they can be spray-painted white or left natural. Poked into a Styrofoam base they can create Easter egg trees ornamented with miniature hanging eggs. Break some into smaller pieces and tie them together with a pretty bow for a natural cabin accessory.
Science in Nature
Turn your days outside into a learning experience. Create an outdoor scavenger hunt for autumn days. Practice the colors of the rainbow on the leaves and colors of the day. Discuss the occurrences of autumn and the science behind it. All this learning and the day outside in the beautiful weather, all for free.
October 10, 2000
0

found this helpful
It's the season here for pine cones, acorns, walnuts, wild flowers, thistles, cattails, etc., these are all things found in nature that we can collect (for free!), then dry or preserve, and save for use in our winter crafts.
For example, all sizes of pine cones can be used to make a pine cone wreath. Small pine cones can be spray painted silver and gold and put in a little wicker basket as a pretty winter decoration. Larger pine cones can be rolled in (cheap generic) peanut butter and then (bulk/generic) birdseed and hung out in the winter for the birds when they need energy food.
Other examples might be: wreaths made of acorns and walnuts hot-glued to a straw wreath, dried wild flowers used in floral wreaths and arrangements, cornhusk dolls from the husks on late corn. The possibilities are almost endless.
Ness from Lakeview, NY