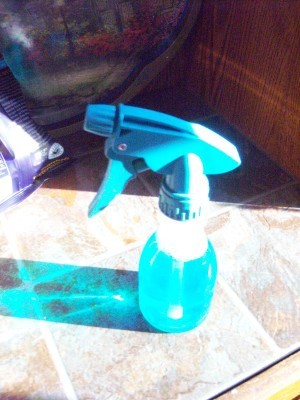 It just happened! Bringing home two pizzas and a container of extra sauce, that ended up opening and dumping onto my new, light gray upholstered car seat! AUGH!! I had even used an over the counter upholstery protection spray previously on the seats, but it didn't seem to help at all!
I used a credit card (for a firm piece of plastic) to carefully scrape up as much of the sauce ASAP, then got home and carefully placed two (cold water) wet sponges on the two stains until I could make up the spot cleaning mixture.
I mixed together one cup of water with two tablespoons of dish detergent (like Dawn) and one teaspoon of ammonia which I placed in a spray bottle I usually use for my plants. I mixed it slowly and cautiously sprayed the spot and gently rubbed each spot with a squeezed out sponge and the stain slowly disappeared.
It's still somewhat wet (I am not trying to rush the drying), but it looks undetectable to me at this point! Much to my relief!
Sorry I have no before or after photos. I was so worried about "time being of the essence" that I acted as quickly as possible. I do have the mixture picture and will label and save this for rug and other spot cleaning around the house. Of course you may want to do a spot check in an inconspicuous spot before trying to clean a rug or other item. At this point I had little to lose since it was a huge mess on the car seat and car back.