Considering buying little Billy a new pet as a gift? Think again.
Pets are the worst gifts to receive - especially for children. Unfortunately, many parents think their children can take care of a pet on their own. However, many children lack the responsibility and attention span for a pet. Soon they'll lose interest- you'll be stuck with that pet and off to the animal shelter it goes. And who's fault is it? Yours.
This is what happens when most parents buy their children pets as 'gifts'. In actuality, pets are like children. They have their needs and have to go to the vet when they're sick.
Parents ALWAYS need to remember these rules before purchasing any new pet:
Do some extensive research on a pet that you want. Make sure they suit your lifestyle, and try to find out how much care they need and their life expectancy. You can obtain this information from the library or internet. Have your child learn about this new pet, too.
Are you financially ready for this animal? Vet bills and pet supplies can run high over a period of time.
Buy supplies a week or a few days before you purchase a new pet. Setting up and buying everything the moment you purchase your pet is going to put a lot of stress on your new pet.
As for purchasing a new pet, please adopt instead. These animals need homes much more than the ones in the pet stores.
Good luck!
- Misha
Read More Comments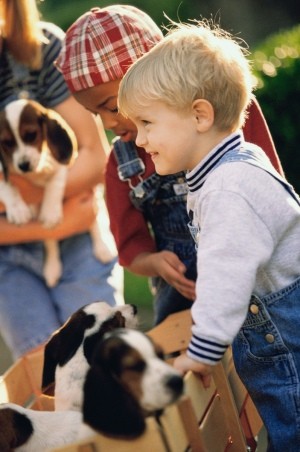 If you've never had a pet before, or it's just been a really long time, you're going to need to make a few adjustments to your life.
A pet is an immediate investment. Buying a puppy from a breeder? Picking a cat from the shelter? You're going to have to shell out some money just for the pet itself.
A pet is another mouth to feed. Whether it's a guppy, a guinea pig, or a Great Dane, you're going to be stocking up on food and treats.
A pet needs regular veterinary care. Unless you've got a goldfish that you're not too attached to, you're going to need to find a vet and start visiting. Dogs and cats (and even rabbits and rats) should see the vet at least once a year. I like to bring my dogs every six months, just for a check up.
A pet needs attention! Play with your puppy, cuddle your kitty, teach your rabbit to jump through hoops. Whatever kind of pet you add to the family will need some loving. The more time you spend playing with your pet, the more bonded you will be. And don't think that certain pets don't need attention. I've had hermit crabs that loved to play with me, they would climb all up and down my arms and nestle in the folds of my clothes.
A pet needs a bed. Your dog or cat may like a bolster bed, or they may curl up on an old cushion. They may want to sleep in their crates! Your hamster will need a little box to make a nest in. Everybody needs a place to sleep that they can feel safe in.
A pet needs a bathroom. Caged pets and pets that roam the whole house will need a place to answer nature's call. Cats and rabbits (and even small dogs) can learn to use a litter box. Bigger dogs will probably use the yard for their business.
A pet needs cleaning and/or grooming. Fish tanks need to be cleaned. Doggie doo needs to be scooped. Furry pets need brushing, and most pets will need a bath at one point in their lives.
A pet may need training. Do you want Fido to think your bed is his bed? If you don't want him hogging the pillows, you need to teach him that he isn't allowed on the furniture. You need to teach your cat to leave the drapes alone and play with his kitty condo instead.
Read More Comments