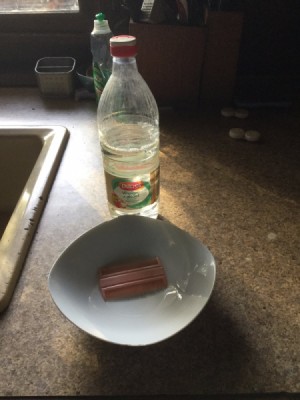 I live in Tahiti and unfortunately there aren't a lot of pet stores here on the islands. In fact, there aren't any pet stores here on the island. If we want anything for your pets we have to buy them from the veterinary or the pharmacy. We pay an extremely high price for our pet care needs.
One night my boyfriend came home from work with a 6 week old puppy. He was adorable and so cute. However, he was infested with fleas. I had never seen so many fleas on an animal before.
I went to the pharmacy and purchased a lice comb. Here in Tahiti they don't sell a flea comb for dogs. A lice comb works great if you buy the plastic one like I purchased. Afterwards, I stopped at the grocery store and bought a bottle of white vinegar. When I arrived at home I poured the vinegar into a bowl. I then proceeded to comb the dog with the lice comb. This trapped the fleas on the dog. Afterwards, I rinsed the comb in the bowl of vinegar. This immediately killed the fleas on the comb.
After spending an hour combing the dog and removing the fleas I made a tub of warm water and poured 2 cups of vinegar into the water. I soaked the dog in the tub of warm water for 30 minutes.
This procedure took me around a week to get rid of all the fleas on the dog. Fortunately, I have never had a flea problem again. Once I killed all the fleas with vinegar my dog has been free of fleas.
After some of the sores healed on the dog I was able to take him to the lagoon and bath him in the salt water. Here on the islands the salt water is fantastic for controlling and getting rid of fleas. However, when a dog's skin has too many sores it is not a good idea to bath him in salt water.