I have literally thousands of worms in the driveway and they are all migrating into the garage and now into the house through the mopboards. I sweep them out of the garage several times every day, but they keep coming back.
Every morning there are thousands in the garage near the door to the house. They are hard, 1-1/4 inches long with little pincers, and coil when disturbed. How in the world can I get rid of these pesky critters? I do have chickens, but even they can't keep up with the infestation.

By Bonnie Tedder from Kinderhook, NY

Answers:
Getting Rid of Worms On Pavement
I got this from Colorado State Website http://www.ext.colostate.edu/PUBS/insect/05552.html

Millipedes

The most common millipedes are dark brown and reach 1 to 1 1/2 inches when full grown. They are round and elongated, with many small legs. A common description is "little black worms crawling in the basement windows." When dead or disturbed, they tend to curl into a tight coil.

Millipedes do not bite or pose any danger to humans. They feed on rotting organic matter such as leaves and wood and rarely feed on tender green leaves and roots. They spend almost all their time in moist areas, such as under rocks or logs and in lawn thatch.
Movement into houses often is sudden and sporadic. Most millipede movement takes place in September and October and again in midspring. Invasions, usually into cellars, often take place shortly after a period of wet weather and end as suddenly as they start. (07/16/2009)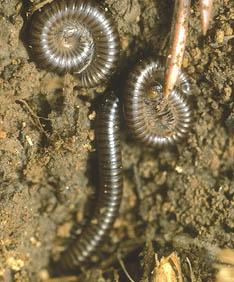 Getting Rid of Worms On Pavement
Those are either millipedes or centipedes. With that many, I'd use an insecticide or you can try what I wrote to someone else about maggots. Borax or washing soda might do them in. Put a border between the outside and inside, like a solid trail. If they cross it, it might kill them, too. (07/18/2009)

Getting Rid of Worms On Pavement
Salt! I always use salt outside my front door to keep worms and snails away. It works! (12/18/2010)
By GLewis