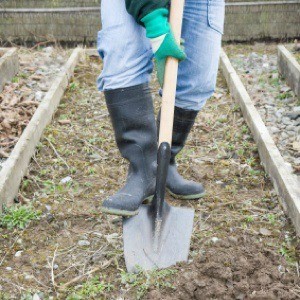 Spring is finally here! Well, for most of us anyway. The weather is warming up, the birds are starting to nest, the leaves are starting to unfurl (or at least the buds are starting to swell), and after a long winter's nap, you have the irresistible urge to dig in the dirt. Here are some tips for getting your garden ready for the growing season.
Check Your Tools: Is everything in working order? Do any of your tools need sharpening, oiling, adjusting, replacing? Are handles loose? Are tines missing on the rake? If your lawnmower or garden equipment needs servicing, this is the time to take care of it.
Assess Your Plants: Take a walk through the garden to evaluate who survived the winter and what needs replacing. Check plants for signs of salt damage and winter burn and look for signs of emerging growth. Remember, plants grow at different rates. Wait at least until late spring for new growth to poke through before giving up and assuming a plant has died.
Divide And Conquer: Take note of any perennials that need dividing and start moving them.
Spring Clean: As soon as the garden is dry enough to walk on, clear away any debris left from fall. Lift mulch from flowerbeds and give your lawn a good raking.
Remove Winter Mulch: Native trees are great in signaling when it is time to remove winter mulch. As soon as their buds start to swell noticeably, it is time to begin removing mulch. Lift mulch off garden beds with your hands (rather than a rake) to avoid damaging any emerging growth.
Test And Amend Your Soil: This includes any soil leftover in your large containers. When you get your results, add the recommended amendments as soon as you can so they have time to settle in before planting.
Turn Up the Heat: Planting in soil that is too cold can result in seed rot, slow germination, and slow growth. To bring your garden soil to temperature faster, heat it up by covering it with plastic. A soil thermometer (available at many hardware stores) is an easy and inexpensive way to track your progress.
Cut Back: If you left your ornamental grasses up for winter interest, cut them back to within a few inches of the ground as soon as you can get to them. Don't worry if you snip off a bit of new growth. They will bounce back when they are ready. Cut back dead foliage from perennials (not evergreen perennials or biennials) to about 2 inches.
Water Dry Areas: Plantings next to buildings and under overhangs are well protected over winter. At the same time, they are often denied the benefits brought by spring rains. Give new growth a boost by making sure the plants you have growing in these areas get plenty of extra water.
Stay On Top Of Weeds: These annoying pioneers are usually the first new growth to poke through in the spring. Fortunately, moist spring soil makes them easy to remove. Try to stay ahead of them now while things in the garden are still relatively quiet and you have the extra time (and motivation) to keep them in check.
Turn Your Compost Pile: In harsh climates, "hot" compost heaps tend to cool off because of the cold temperatures. As soon as your pile thaws, you can reactivate it by removing everything from the bin, mixing it all up, and returning it to the pile. This will also give you a chance to see how your system is working and whether or not you need to adjust the mixture.
Prune: If the buds are starting to swell on your landscape trees, it is best to put off pruning until late next fall or early next spring. Prune flowering shrubs as soon as they finish blooming.
"Spring Train" Your Body: Even if you exercise regularly, jumping right into gardening chores without preparing your body can lead to sore muscles and an aching back. Before starting any garden tasks, take a brisk walk around the yard to warm up and follow up with some targeted stretching. Stretching after working in the garden is also a great way to increase flexibility and ward off stiff muscles.
Comments
Read More Comments