I need some one to help me to go through the procedures of becoming a longshoreman. I tried to find out but I can't find any steps.
Please help me.
tashface from Newark, NJ
Answers:
Getting a Job as a Longshoreman
try copying and pasting this link.
http://www.milamhctf.com/portInfo.asp?mnu=3&sub=3
I just googled longshoreman. I imagine a local union could give you some help on how to get in. (01/28/2006)

By Becki
Getting a Job as a Longshoreman
You need to find out were the local union hall is and go there. I am a member of the I. L. A. "International Longshoreman Assoc." (11/29/2007)

By Dave
Getting a Job as a Longshoreman
Good luck, the water front works on who you know. Basically if you're an outsider it's probably not going to happen. If you are hired, good luck getting a job out of the hall, as all the high seniority guys run their kids' numbers, and hire them off the pier. So they can get their hours and pass you in seniority. Expect to go for weeks or sometimes months with out working and when you do get a job expect it to be back breaking work, unless (if you are not in shape this job is not for you) you get a drivers job.
Everybody thinks you get a job at the waterfront, and you don't do anything, and you get payed over a 100k a year. It doesn't happen your first year out. You would be lucky to make 30k (the guys that make over a hundred are top pay and basically live there). Plan on spending a good part of your day sitting at the hiring hall waiting for jobs.
The waterfront is a good job. I'm not going to lie, but there's a lot of favoritism. It's basically a whose your father, or relative game. If I was you, I would find out where the longshoreman's hiring hall is and then union hall, and every other location they have. Start there, you will probably get the run around at first, but don't give up. Keep gathering all the info you can, and eventually you will find out where to go to fill out an application.
Our union last year took 120 people there was a good 500 lined up around the union hall waiting to get an application and they all had the 2,000 dollars for their intuition fees. (12/09/2007)

By slinging chains on the waterfront
Getting a Job as a Longshoreman
Contact the Pacific Maritime Association in Long Beach, CA. 562-495-7600. They jointly control the hiring process in the ports of Los Angeles and Long Beach along with the International Longshore and Warehouse Union. They hire a group of "new hires" on the average of once every five to seven years. If you pass all the tests and requirements, you then are assigned part-time work until full-time positions become available. After hired full-time, you are then placed on a probationary period for an undetermined length of time until the union and employer agrees you have proven yourself, through work habits and reliability, to become a full fledged Longshoreman. The entire process takes years, but is well worth it if you like exciting and dangerous work. The wages and benefits are healthy, but the job is VERY dangerous and exhausting at times. (04/08/2008)
By Ship Gang 48
Getting a Job as a Longshoreman
For all those seeking longshore work, know that it is a very long haul. I have worked in Tacoma since the fall of 1999 and I am still not fully registered. It is a falsehood that you need to be family to work here. The way it does help is that you understand what the union and brotherhood is all about. My father was a registered longshoreman for 44 years and he had a lot of knowledge to share with me. It is very dangerous work. If you are just looking to make a quick buck go sell used cars.
I take my job very seriously and I truly care about my union brothers and sisters...It has to be that way because it is horrible to see anyone die on the job...even if you don't like that person. They don't just hand out A books to people, you have to earn them. It's a lot like going to medical school but not as clean of a job. For me it was worth every minute. (04/13/2008)
By Chucky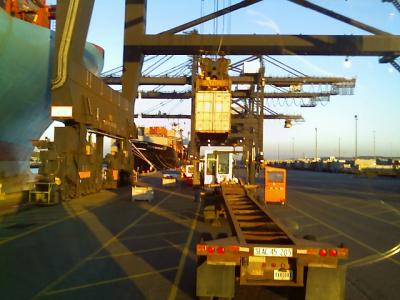 stay at your job
Being a longshoreman is not cut out to what you think it is. There are a lot of ups and downs about this job. I'm a longshoreman and these are true facts. (04/21/2008)

By christine
Getting a Job as a Longshoreman
The first thing I would do would be to get a TWIC card, which will allow you to work on any sea port in the country. Having this card will not get you a job, but without it you cannot work on a port. Please use this link for more information.
http://www.tsa.gov/what_we_do/layers/twic/index.shtm (07/03/2008)

By Chrischop442
Getting a Job as a Longshoreman
You are no longer required to know someone to be a longshoreman, or to get work, although it does help. It used to be that way but now a days with people suing for spilling hot coffee on themselves things are a bit more structured.
Here's how it works, down in LA / LB anyway:

1) You wait till they are hiring. Don't count on this happening anytime soon. They brought in 18,000 people and are still not done processing them. The first 5000 got "elevated" and the rest are still working as a casual.
2) A books and I think IDs(?) were given ONE application. I think there was 5000 of these given out. An application guaranteed you a job, but it's been 4 years since I turned mine in and I'm still working on being elevated. The rest of the 18,000 were lucky winners; 800,000 postcards were submitted. If you submitted more than one, you were cut. If you couldn't pass the physical, drug test, lashing test, you were cut.
3)To make a long story short, keep your ear to the news and find out when they are hiring.
My advice is this: there are other opportunities at the Port. Electricians will be needed to help operate the new technology they are implementing for a cleaner environment. Also, consider the security that is needed at the port. From port police to the coast guard, as time goes on and the port expands more jobs will be created.
Getting your TWIC card wouldn't hurt, but I would wait til you have something going on first. They are not even implementing the TWIC system til April(?) 2009. The TWIC is good for 3 or 5 years, I forget, but the point is if you get it now, like I did, one year will be wasted since it's not even needed yet.
(07/28/2008)

By Ray