August 11, 2006
0

found this helpful
We were sent a Freestyle Cold Heat Glue Gun to test and review from the company.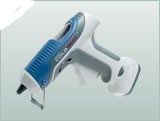 They sent it with charged batteries and glue sticks. It is has a battery pack and a charger. It was very easy to use and the best things about it is that it is ready to use with no cord in the way. It also has a built in work light that shines on what you are gluing.
I quickly glued together a couple of scrap CDs and some ribbon to make a quick CD Christmas Ornament. The tip is fine so you don't get more glue than you need and it is very easy to glue small items without showing a bunch of extra glue.
I have a lot of pieces of broken pottery, pieces that had been broken and discarded from a college pottery studio. I decided to glue some of the pieces together. In just a few minutes they were glued together. The piece is strong enough to support the whole piece by just picking up one of them.
The battery was still going when i stopped using it. I figure to give it a good test, I should use it until the battery was used up and then check the recharger. I found a few more things to glue, one of them was my outdoor clothes dryer. It would have been a lot of trouble to use a corded glue gun to do that job. I also glued a few more small things. Didn't run the battery out, I probably used it for about a half hour without needing to recharge.
I think for any serious crafter, this tool is well worth the selling price of $29.95. Just relieving the aggravation of having the cord in your way and no place to set the hot gun is well worth it. It will sit nicely on the handle or you can use the little metal thingy at the end along with the handle to sit it up nicely. The light is very handy, too.
All in all, one of the staff said it was the "Cadillac" of Glue Guns and I must agree.
By Susan from ThriftyFun
Comments
August 12, 2006
0

found this helpful
Top Comment
Hi Susan, this is a awsome Craft Tool. No more hot glue burns- ouch these hurt. I will look for one at Hobby Lobby.
COOL IDEA.
Thanks for letting us know about this jewel,
Sherry
ps great for styro. balls too at Christmas.