November 4, 2019
1

found this helpful
Best Answer
You are at a good start, Michael's carry Mod Podge for fabric for $7.99.You can also down load coupon for better price. And sense you have a little one you can have this fabric podge on hand for future pieces and projects. This saves you money on many levels!
thanks. I had already started since Sunday in little sections but I stopped to see what experts had to say heheh.
November 4, 2019
0

found this helpful
Best Answer
Some people swear by hair spray to help keep stuff from falling off glittery clothing. I think it makes the a fabric tacky and smells bad, but I am very sensitive. Also it would need to be applied after each washing (as would just about any treatment).
I would be the one taking the item back to Costco and asking for a refund because of shoddy workmanship, but I am sure your daughter is totally into the item and that is not an option.
You could always try writing a letter to the maker and asking them to pay for the hairspray if you go that route. Modge podge seems much too goopy and gloppy for your intended purpose.
Post back with an update!
I had heard about the hair spray before. But then i would be scared of the little one accidentally bumping into something flammable at a party or something. Mod Podge is actually not that bad the fabric kind.I apply it with a tiny paint brush and try to assemble the foil how it used to me.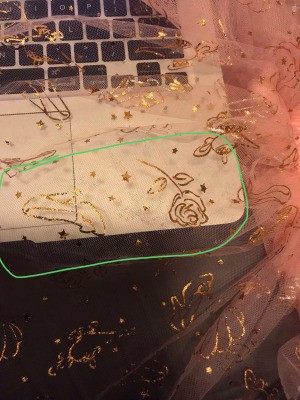 November 5, 2019
0

found this helpful
I would be careful no matter what. Modge podge is not flammable, but will melt at a high temperature. This quote comes directly from their page:
No matter what, just never leave anything Mod Podged thats near a flame unattended. It was taking about using it on a candle...but the thought is still the same! Safety first with all kids items!
November 4, 2019
1

found this helpful
Best Answer
First off I would go back to Costco and ask for a new one. Once you get home it is a good time to add the Mod Podge to the glitter items so they do not fall off again. Replace the item first so it looks nice. The add the Mod Podge to the glitter to protect it. This way it can last a lot longer and she can enjoy wearing it around the house.
aaahhhhhh you are right!!! didnt think about that.
Hopefully they still have some. Last time I went there were only one more her size. im gonna check online thanks!!!
Sorry Im new to this forum. And I was trying to tell everyone who gave me advice thank you!!! And I decided to purchase another one online from Costco like postpoe? Suggested. As soon as I get it; its Mod Podge time!! Because the more i examined the tutu the more i noticed it was missing a lot of foil. Thank to everyone that helped!!
November 6, 2019
0

found this helpful
Welcome to the site!! Hope you will enjoy it and post questions again soon!! Blessings to you and yours!!