I received an email warning this morning in my inbox from a good friend who loves to pass on warnings about dangerous things that might affect my three little dogs.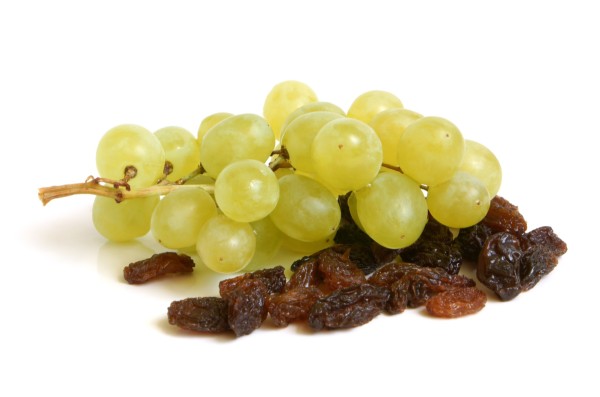 Knowing that I have grandkids that live with me and that my little dogs figure anything that hits the floor in the way of food is a ground score, she thought that I might like to be aware of the following: Grapes and raisins can be very toxic to dogs. I thought this was crazy. A little grape is going to hurt my precious little pups? But with a little research this is what I found and it is very scary indeed. Many pet owners have been using raisins as a training treat, and some have used them as a "healthy" snack alternative for their dogs without knowing the risk that they are putting their precious pets in. First off they don't even know what toxin it is that can make your animal so sick. It is thought to be due to an unknown compound in the "fleshy" part of the grape so they have figured out that there have been no problems associated with grape seed extract. The scary part is that dogs and some cats like grapes and raisins and since not many people know that they are toxic to animals may be feeding them to their pets. Now as a treat every once in a while may not pose a great threat, they should never be fed to your dogs on a regular basis or left where your dog can accidentally get into them. The unknown toxin damages the kidneys. The type of grape and the type of dog doesn't seem to matter, and the toxic amount may be a small serving to several ounces. Since the exact dose is not known most scientists have estimated as low as 1/3 ounce of grapes per pound of body weight, and 0.05 ounces of raisins per pound of body weight can harm your pet.
A computerized animal toxicity database helped veterinarians see a trend in 1989, noticing that in some cases of acute renal failure (sudden kidney failure) dogs shared a common history: the consumption of raisins or grapes just prior to the kidney failure. The type of grape or raisin doesn't seem to matter, and the amount consumed may be a single serving of raisins or a pound or more of grapes. (Raisins are much more concentrated.) Researchers are exploring the possibilities: a mycotoxin (fungal toxin), pesticide, herbicide, or heavy metals. These are the signs of accidental overdose: vomiting, diarrhea, lack of appetite, lethargy, or abdominal pain, jittery (hyperactive) behavior within the first 24 hours after ingestion. The vomit and feces may contain partially digested grapes or raisins. If you find that your dog raided the pantry so to speak, you need to do these things immediately. Induce vomiting and seek veterinary attention immediately. Please take this seriously as your pet's life is in grave danger. If not treated within the first twenty four hours, your pet may die a horrible death. At the vet's office they will immediately start treatment which could include: The induction of vomiting may be continued, gastric lavage is performed, and activated charcoal administered, if needed. Your pet will be monitored and treated for kidney disease/failure with fluids, diet change, and medications. If these tips and information save just one pet's life it will be well worth it. Please feel free to pass on this information to others.
Comments
April 15, 2009
1

found this helpful
Dog Friendly (No Raisin's) Oat Meal Cookie Recipe: A friend of mine was caring for her Grandchildren, at her house one day. She gave each child a little box of raisins to enjoy. The kids started flipping her dog raisins to catch in the air. Before days end, her precious little dog died. Like you, all of us were very shocked to find out raisins were the culprit. Worried that our dog would find dropped raisins from oatmeal cookies on the floor, or possibly be given a oatmeal cookie by someone unknowingly.
I created a new dog friendly recipe for oatmeal cookies assuring this wouldn't happen again. Use your favorite Oat Meal Cookie recipe, without the raisin option. Instead of raisins, I place 5 fresh blueberries on each cookie before baking. Bake the cookies as you would oat meal raisin cookies. To assure blueberries are safe for dogs, I researched on the internet. Guess what, we now like Blueberry Oatmeal cookies even better then Oatmeal Raisin cookies. Thank you for your post as that was outstanding advise!
April 16, 2009
1

found this helpful
Yup they sure are toxic! I've know that for years. My dogs are like my children and you bet I've done my research. Imagine my horror when I found out an older gentlemen friend of ours was feeding his Chihuahua and Chihuahua/Yorkie X M&M's for treats! I don't think he's doing it anymore, but don't know how long he's been doing it which scares me for them :(
April 16, 2009
1

found this helpful
I have very dear friends who lost their dog due to kidney failure, when the dog had eaten grapes.
April 17, 2009
1

found this helpful
Thanks for the info!! I've heard pork is also bad for dogs.
Is this true? just incase we stopped feeding our dogs pork. What else is bad for them besides grapes, rasins, chocolate?
Read More Comments