Vi Johnson
Silver Post Medal for All Time! 288 Posts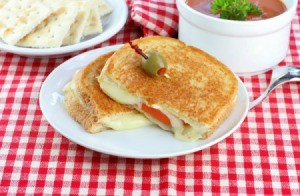 When making a grilled cheese and tomato sandwich, start the heat under the skillet. Put the bread in the toaster for a minute or so to heat, now lightly butter one side and put it in the hot skillet. Turn down heat. While that's browning, fix the other slice the same way.
You'll note that it takes a lot less butter since the bread is warm and just a little dry, but not toasted. The butter spreads faster and it cooks faster. Take the first slice out of the skillet and put the other in. Put the sliced tomato on top of the cheese, throw on a couple of fresh basil leaves if you have some.
By now the other slice of bread is browned, lift it out and put the one with the tomatoes back in the skillet, turn off the heat and top with the one that you just took out, let it warm back up for 15-20 seconds.
Now you have a great grilled cheese and it is not as greasy or soggy/limp.
And the tomatoes are cool as cucumbers. Now there's a thought, adding cukes to the next one. ;-)
I used 7 grain whole wheat bread, Muenster cheese and added some left over fried sauerkraut on top of the tomato, because I like it. LOL Sliced beets on the side instead of chips or fries.
By Vi Johnson from Moorpark, CA
Read More

Comments