Grilled Cheese Sandwich Recipes
Recipes
Share on ThriftyFunCheck out these recipes. If you have made this recipe please submit a photo and let us know how it worked. Or, add your own recipe variation.

Can't remember where I found the idea of baking grilled cheese sandwiches a couple of years ago but finally decided to give it a try and they turned out great! Not only is the bread toasted nice and crispy when baked in the oven but the melted cheese seems even more tasty gooey!

Baking your grilled cheese sandwiches in the oven is also a great time saver when you're feeding a lot of people and with minimal cleanup if you line your baking sheet with foil.

Since I love anything Caprese, I chose to try that first but be creative! Try it with turkey, chicken or ham slices and/or tomato slices with your choice of cheese or even your favorite tuna mixture. Switch up the herbs too ;-)
Ingredients:
4 slices sourdough bread
8 thin slices mozzarella
4 large thin slices tomato
1 Tbsp. fresh basil, finely chopped
1 tsp. red wine vinegar
2 Tbsp. extra virgin olive oil
1/4 tsp. garlic salt
Directions:
Preheat oven to 425 degrees F.
Layer the cheese and tomatoes on two slices of bread. Evenly sprinkle each with basil and vinegar and top with remaining bread slices.
Mix the oil and garlic salt in a small bowl, and brush over the outsides of both sandwiches.
Place sandwiches on a foil lined baking sheet, bake for 5 to 7 minutes until the bottom side of the sandwich is golden brown. Flip the sandwiches and bake an additional 5 to 7 minutes until other side is golden brown and serve.
By Deeli from Richland, WA

Spice up those boring grilled cheese sammies ;-)
Ingredients:
2 Tbsp. butter or, mayonnaise lovers, yes you can use mayo
4 slices thinly sliced sourdough bread
Very thin slices cheddar cheese, enough for one layer on bread
Very thin slices Monterrey jack cheese, enough for one layer on bread
1 plum tomato, thinly sliced
1 very small jalapeno pepper seeded and finely chopped (or 1 Tbsp. diced canned)
Directions:
Heat a large skillet over low heat. Spread butter or mayonnaise on to one side of two slices of the bread. Place both pieces spread side down in the skillet. Lay slices of cheese on each one and top with slices of tomato and sprinkle with jalapenos.
Spread butter or mayonnaise on one side of the remaining slices of bread and place on top, buttered side up. Once the bread facing down in the skillet is toasted golden brown; flip, lightly press with spatula and fry until golden brown on the flipped side.
By Deeli from Richland, WA
Of course you can flavor these up a tad with a bit of diced jalapenos, super thin sliced tomatoes, and/or some finely chopped cilantro or basil.
Ingredients:
6 thinly sliced sandwich bread (I use Pepperidge Farm Very Thin Sliced)
4 deli style slices sharp cheddar cheese
Melted butter
Directions:
Preheat a grill to medium high.
Arrange slices of bread on a work surface. Trim off the crusts and save them for future bread crumb use.
Top 2 bread slices with 1 cheese slice each, then top each with another slice of bread, then top each with 1 cheese slice and finally another slice of bread.
Brush both outer sides of each sandwich with butter.
Grill each side, occasionally pressing lightly with a spatula, until cheese is melted and bread is golden.
By Deeli from Richland, WA
For Sunday lunch, we used to have grilled cheese sandwiches and Campbell's tomato soup for a good combination. I would melt butter in the frying pan and make 4 sandwiches and cook them until they were browned, flipping them and flattening them with the spatula. I think that's how I warped my electric frying pan.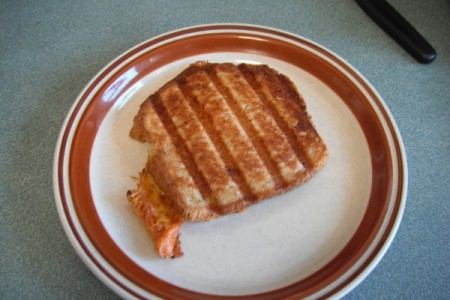 Read More...
This unique grilled cheese sandwich contains hot cheese puffs, mac and cheese, and sliced choose of your choice.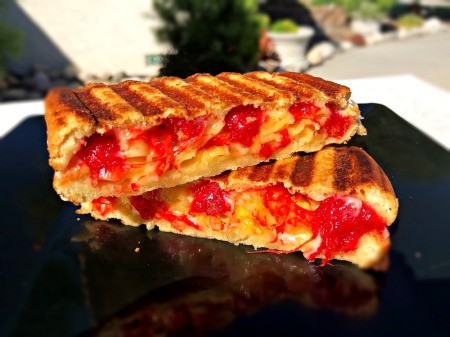 This recipe combines delicious, gooey cheese with the wonderful flavors of basil and tomato. If you already love grilled cheese sandwiches, why not give this fabulous version a try!
This is a page about grilled tomato basil cheese sandwich.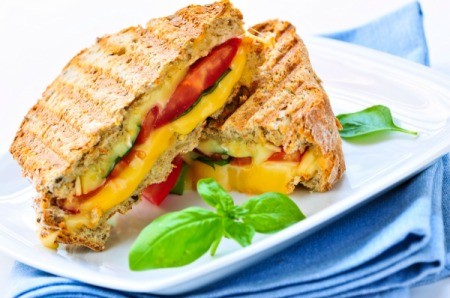 This page contains egg in the hole grilled cheese sandwich. Add an egg to your grilled cheese sandwich for a protein rich meal.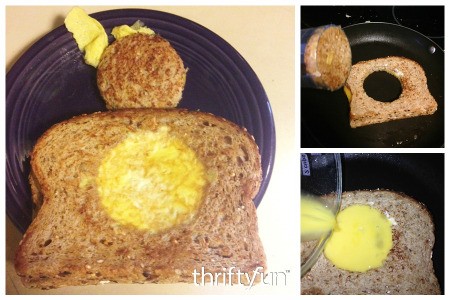 Liven up your next grilled cheese sandwich by adding a tomato slice or two, before grilling. This is a page about grilled cheese and tomato sandwich.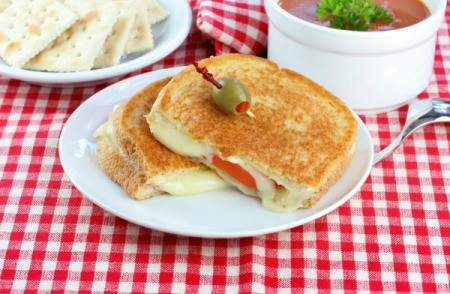 This page contains grilled ham and cheese sandwich recipes. Grilled ham and cheese sandwiches are perfect for a quick lunch or dinner.