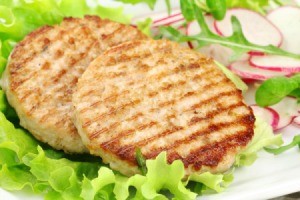 Finally grill time again! You can ask your butcher to grind boneless, skinless chicken thighs and/or breasts for you. You can also substitute the ground chicken with ground turkey. I sometimes use orange instead of lemon for the mayonnaise.
Ingredients:
1 Tbsp. olive oil
1/2 small yellow onion, minced
2 cups loosely packed arugula, coarsely chopped
1/2 lb. ground chicken
1 to 2 pinches ground cinnamon
1/3 cup plain bread crumbs
2 hamburger buns
Lemon mayonnaise (instructions and ingredients below)
Arugula leaves
1/2 cup feta cheese, crumbled
1 tomato, sliced
Directions:
Preheat grill to medium low.
Heat olive oil in a skillet and add onions. Cook just until softened, about 5 minutes. Stir in arugula and cooked just until it wilts. Remove from heat and allow it to cool.
Combine chicken, cinnamon and bread crumbs. Add in the cooled arugula. Mix well and make two patties. Cook until chicken is cooked through. About 7 to 10 minutes per side.
Meanwhile, toast the buns on the grill. Top with lemon mayonnaise*, arugula leaves, feta, tomato and serve.
*Mix 1/2 cup mayonnaise, 1-1/2 teaspoons fresh lemon juice and 1 teaspoon freshly grated lemon peel.