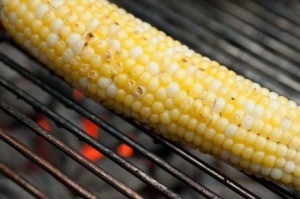 It's an easy and delicious way to cook corn on the grill.
Ingredients:
Corn on the cob with husk and silk intact
Water
Gas grill
Directions:
Place corn on the cob, with husks and silk intact, in sink. Fill with cold water and let soak for at least one hour. Place heavy plate on top to keep the corn submerged under water. Drain sink.
Cook on medium gas grill for 20 minutes with lid closed, turning 1/4 turn every 5 minutes. Using clean leather/suede work gloves, strip off husks and silk since the corn will be hot.
My husband keeps a pair of clean work gloves just for stripping the corn. The husk and the silk is very easy to clean off after cooking. He cleans the corn outside to avoid a mess in the kitchen.
If you are cooking a large amount of corn on the cob, use a large plastic container to keep the corn soaking outside in the shade until ready to grill.
To cook one ear in the microwave, wrap two damp paper towels around one ear with the husk and silk, and microwave on high for about 3 minutes depending on the wattage of your microwave.
While this is good, it will not have the grilled taste as if cooked on the grill.
Servings:
Varies
Time:
At least one Hours Preparation Time
20 Minutes Cooking Time
Source: Local farmer
By it's.only.me from NE PA