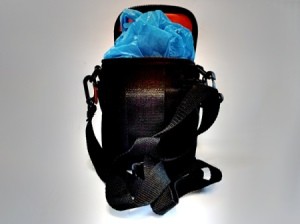 I have two carry cases for my new camera. As I use only one, I decided to pack the other, away. I didn't want it to become flattened or misshapen in storage, so I stuffed it.
I found those ubiquitous grocery bags to be the ideal stuffing. I'm thinking these plastic bags have lots of applications as stuffing. The first to come to mind is using them as shoe trees.
Shoe trees are almost a thing of the past. Stuffing shoes, particularly the toe with these bags is bound to help preserve the shape of the shoes when they are not being used for extended periods.
So, ladies, if you're putting your high heel tennis sneakers away for the winter, help keep them looking great for spring by stuffing them with grocery bags!