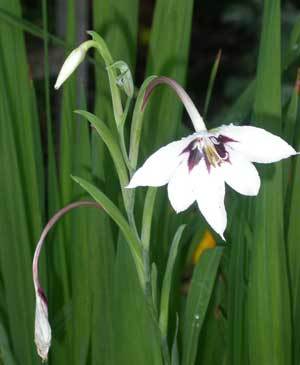 Botanical Name:
Gladiolus callianthis
Life Cycle:
perennial bulb
Planting Time:
spring
Height:
24" to 36"
Exposure:
full sun
Soil:
rich, well-drained soil
Hardiness:
zones 7-11
Bloom Time:
mid summer to fall
Flower:
white hooded flowers with maroon centers; fragrant
Foliage:
green
Propagation:
bulbs
Suggested Use:
beds, borders, cut flowers and mass plantings
Growing Hints:
Plant in clusters of 5-7 for best show. In the spring, Corms should be planted three inches deep and six inches apart. This plant requires a long growing season (up to 20 weeks) and should be started indoors 1 month before the last frost in northern zones. Water regularly while in bloom and cover plants with mulch if frost arrives during flowering. In the fall, bulbs can be left in the ground to spread or lifted, cleaned and stored in sand at 60º F for winter (zones 6 and north should always lift bulbs). Corms need to be dried quickly to avoid soft rot. The small bulblets that form around the main corm can also be separated and replanted.
Interesting Facts:
The peacock orchid is related to the gladiolus, not orchids.