I'm doing my best to get fellow members to look into growing berries and dwarf fruit trees in small, sunny spaces about their homes. Eating fruits and berries you have grown has very satisfying rewards. The Europeans are, and have been, way ahead of us in utilizing any free space about the home to grow fruits and vegetables.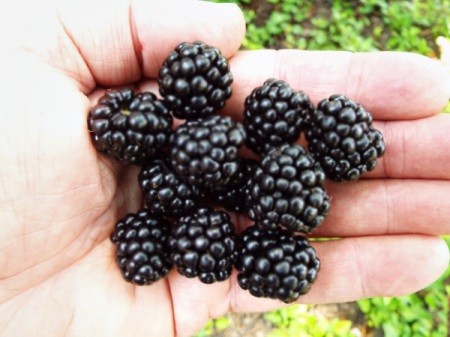 Let's talk blackberries. I bought four $10.00 plants that were marked down to $3.00 each. There are several different types of blackberries. I won't go into the differences, here. I will say that the type I bought bears fruit on the second year's growth.
If you buy such a plant with all new growth, you will not get any berries the first year. This new growth will stay on the plant til next year. Then it will bear berries. While this, now, second year's growth is bearing berries, new growth will arise from the base of the plant. After the berry bearing canes stop producing, they begin to die down and eventually die all together. The new growth will survive the winter and become next year's canes to bear berries.
What should one do with the bearing canes when they begin to die back? You can cut them back to the ground and discard them. But don't be so hasty to do that. Cuttings can be taken from these canes as soon as the berries are harvested. They are easily rooted. You could easily get 10 new plants from these 'dying' canes. (You also can easily root tender new growth, but that's another post).
After your initial purchase, all your plants can be free. A little fertilizer and bird netting will be about your only expenses. Water? Yes. Count that as an expense if you like. Blackberries like lots of water.
With the two varieties I bought being 'erect' rather than 'spreading', the full grown berry bearing plants have a diameter that hardly exceeds that of the 5 gallon buckets they are planted in. These winter hardy plants stay outside over winter and need no protection.
Decision making? Well, in this case, do I make wine with these big bad boys, or do I make a cobbler? Actually, I won't do either. Next year, my plants will be larger, more established and will bear more fruit. For now, I will periodically traipse to the back yard, pick a handful of berries and simply indulge.
I do plan to puree a few and have them over vanilla ice cream. Yes!
Are you convinced, yet?