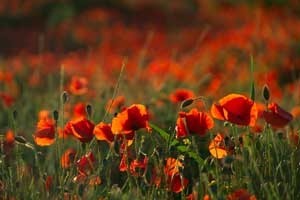 Botanical Name:
Eschscholizia californica
Life Cycle:
annual (self-sowing perennial)
Planting Time:
sow seeds in early spring several weeks before your last frost date or in late summer in warmer climates for fall and early spring color
Height:
1' to 3'
Exposure:
full sun
Soil:
average to rich, well-drained soil
Hardiness:
zones
6 to 10
Bloom Time:
late spring to early summer
Flower:
yellow, gold, scarlet, red, bright orange, white and cream; singe, semi-double and double flowers also available
Foliage:
green,
Propagation:
seeds, self-sowing
Suggested Use:
beds, wild flower meadows
Growing Hints:
Sow seeds directly in soil 1" apart and barely cover them with soil (1/8"). Keep them evenly moist until sprouts appear. In general, poppies do not transplant well and do not like to be disturbed once planted. Once they spread, divide them every five years or so. Dig them up (getting as many roots as possible) in late summer or early fall (just as new leaves appear). Replant only the most vigorous roots.
Interesting Facts:
California Poppies grow well in poor soil. Too much fertilizer will result in poor flowering. They are drought tolerant and should be watered only moderately unless grown in arid climates. Encourage re-seeding by leaving spent flowers and dying foliage in the garden for several weeks.