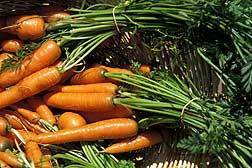 Botanical Name:
Daucus carota var.sativus
Description:
Carrots are root vegetables, usually orange, white or red in color and have a woody texture. The edible part of a carrot is its long taproot.
Planting Time:
Carrots do not transplant well. Sow seeds directly into the garden about two week before the last expected frost. Plant another crop for fall in mid-summer. Warm climates can plant every three weeks until 2 1/2 months before the first frost.
Exposure:
full sun
Soil:
light, well-drained, nutrient-rich soil tilled to a depth of at least 8 inches; plant shorter cultivars in areas with heavy soil
Planting:
Sow seeds at a rate of 3 to 6 seeds per inch at a depth of 1/4 to 1/2 inch.
Watering:
Keep soil evenly moist (not wet) until seeds germinate. Once carrots have been thinned, reduce the amount of water you give them to avoid cracking the roots. If warm weather begins to dry the soil out, remoisten it slowly over a period of several days.
Maintenance:
When seedlings reach 2 inches tall, thin them to 1 inch apart by hand or with a rake. Thin them again two weeks later to 3 to 4 inches apart.
Harvesting & Storage:
Harvest carrots as soon as they are big enough to eat. Carrots left in the ground too long will taste woody.
Diseases and Pests:
Most carrot diseases are soil-borne and can be minimized by practicing crop rotation. Watch for rust fly, carrot weevils and wireworms.
Tips to Success:
Depending on variety, carrot seeds can take from 7 to 20 days to germinate. Speed germination by spreading seeds between two damp paper towels. Keep the paper towels in the refrigerator and check them daily. When white root tips appear, mix the seed in with a little bit of fine sand and sow the mixture directly into the garden.
Carrots exposed to light turn green and taste bitter so mound up soil to keep the tops of roots covered.