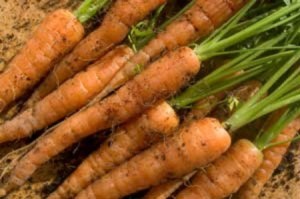 Question:
Where is a garden should carrots be planted?
Hardiness Zone: 11
Penny
Answer:
Penny,
Carrots, like most other roots crops, like deep, loose soil that retains moisture, but drains well.
Carrots are highly sensitive to compacted soils, shallow soils and soils that are cloddy and or contain a lot of rocks. They will sometimes develop forks in response to encountering hard, heavy soils or rocks while growing. For this reason, it's best to plant them in an area of the garden that has loose soil and sees less foot traffic.
Areas immediately next to walking paths or near garden boarders tend to have more compact soil. You can easily get around poor soil problems by growing carrots in raised beds or in containers that are at least 12 inches deep.
Carrots do appreciate nutrient-rich soil, but fresh manure also causes roots to fork, so make sure to add well-rotted manure or finished compost to the soil several weeks before planting.
Carrots can be side-dressed with compost again mid-season. Make sure to rotate crops.
Carrots should not be grown in the same location in the garden more than once every three years. This reduces incidents of carrot rust flies and bacterial soft rot.
Ellen
Also See: