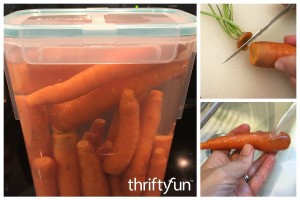 We grow a lot of carrots and I like to keep some in long term storage as we live in central Canada where fresh produce is imported and expensive during the winter.
When we dig the carrots in fall, we remove any excess soil and cut off the tops, leaving about one half inch of greens to prevent "bleeding." We then toss them in the automatic washer on cold and they come out beautifully clean! Don't wash very large ones like this - the agitator will damage them, but carrots up to about 8 inches work in my washer. I don't know if this would work with a front loading machine or not.
After the carrots are washed, we cut the remaining green part off completely, as well as the root tip. We then line the bottom of a plastic box (that has a tight fitting lid) with paper towels, and fill it with carrots, placing another towel on top before snapping the lid shut. Store in the fridge and they will keep for months. Change the paper towels now and then when they become very wet.
By Alma Barkman from Winnipeg, MB
Read More

Comments

How do I store fresh carrots in the fridge?
By Kim

Answers

November 21, 2009
0

found this helpful
Store your carrots. Before storing, remove the greens, as they will deplete the carrot of both moisture and nutrients. [6] Roll up the carrots in a sheet of bubble wrap (the small textured kind) and place in the vegetable drawer in the fridge. The bubble wrap will enable the perfect amount of moisture to stay close to the carrots, but the texture of the bubble wrap will prevent that moisture from gathering right on the surface of the carrots.
If you use a plastic bag, that will lead to rotting. bubble wrap will add up to two extra weeks of freshness to your carrots. It is best to use carrots within one to two weeks, as this will provide you with the best nutrients and taste value.good luck.
Answer

this Question