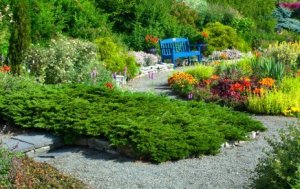 Dwarf conifers can be grown in compact beds or containers and are easy to maintain. This makes them particularly useful for gardeners with limited space. Incredibly diverse in color, texture, and form, their miniature stature allows you the luxury to grow several different species in a small area, providing beauty and interest to your landscape throughout the year.
Selecting Your Plants
When selecting dwarf conifers for purchase it is important to recognize the true dwarf species from the "false dwarf" species. False dwarf species are simply slower-growing variants of large trees which will eventually outgrow their intended space. Because conifers can be difficult to identify when young (their juvenile foliage and adult foliage look different), it's important to read labels carefully and check to see that the plants are correctly named. Dwarf varieties often have the word Nana', Pumila', or Minima' in their names. For example, Nana Aurea' is a dwarf variety of Hinoki cypress. If you have any doubts about what you're looking at, seek advice from a qualified nursery expert.
Designing with Dwarf Conifers
Dwarf conifers come in a wide range of colors (greens, golds, blues, and silvers), shapes (weeping, round, columnar, and spreading) and textures (soft, feathery, dense, and spiky). This makes them suitable for a wide range of landscape uses all year long. Plant them individually, in groups, or use them as a backdrop to complement other plants.
Groundcovers:
Many dwarf conifers make excellent weed-smothering groundcovers, either by forming dense mats of growth, as with Juniperus horizontalis Pancake', or Juniper sabina Blue Forest', or by growing tall enough to block out the light below. When planted in bold drifts across steep slopes or banks, dwarf conifers make a striking, easy-to-maintain landscape feature.
Group plantings:
If space allows, a collection of dwarf conifers can make a very attractive feature planting. With some careful planning, the wide range of colors among species can be showcased to highlight changing seasons. Blues and silvers, for example, are at their most beautiful in the cool light of winter, while golds and greens appear freshest in the warm light of spring.
Rock gardens:
Cultivars, such as the narrow, cone-shaped Juniperus communis Compressa', are also ideal for providing a framework for other plants in the rock garden, or for compact spaces in raised beds.
Screening and softening:
Dwarf conifers with a spreading form can be used to soften hard edges near paths and patios. The ascending, arching branches of Pfitzer junipers, for example, are particularly useful for creating border/hedge plantings or screening unsightly objects like utility meters.
Season extenders:
Dwarf conifers are often used in flower gardens to extend the season of interest and provide a contrast in color, form and texture. They mix well with other plants having complementary characteristics including dwarf azaleas (Rhododendron), boxwood (Buxus sempervirens), and the smaller cotoneasters.
Specimen plants:
Round, columnar or weeping specimens create a dramatic focal point when used in beds or planted in individual containers. Try the dwarf American arborvitae Little Giant', which is round and dark green, or "Aurea,' a gold variety that turns bronze in winter.