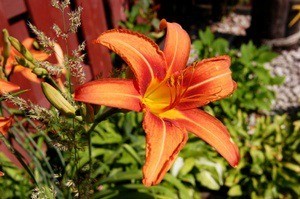 Many cultures have used edible flowers in their traditional dishes for centuries. And with a growing interest in global cuisine, edible flowers are once again coming back into vogue with the gardening masses. Whether you grow them alongside your vegetables or in containers, edible flowers are a wonderful way to bring added color, texture and flavor to your favorite summer dishes. There are hundreds of edible flowers. Here are ten of the most common:
bee balm (Monarda didyma): Often used to make a tea with an Earl Grey flavor.
calendula (Calendula officinalis): Has a spicy, tangy, peppery flavor similar to saffron.
carnation (Dianthus caryophyllus): Tastes like cloves.
chamomile (Matricaria recutita): Often used for tea, it has a mild apple flavor.
daylily (Hemerocallis species): Be careful here, as many lily species contain alkaloids and are not edible. Petals are sweet, crunchy, and slightly bitter tasting. Daylilies have laxative-type properties so introduce them into your diet slowly and in small quantities.
impatiens (Imapatiens wallerana): Bland flavor, pretty garnish.
common lilac (Syringa vulgaris): Has a pungent lemon flavor.
nasturtium (Tropaeolum majus): Buds can be pickled like capers. Flowers have a sweet, peppery flavor.
pansy (Viola xwittrockiana): Sweet and sour like a sweet tart.
rose (Rosa species): Has an aromatic flavor. The stronger the fragrance of the petals, the stronger the flavor. The white portion of the petals tastes bitter and should be removed before eating.
violets (Viola odorata): Has a honey-like flavor.
Harvesting And Cleaning Edible Flowers
The best time to pick edible flowers is in the morning after the dew has evaporated. This is when flowers contain the highest content of water and are at their peak of flavor. Wash flowers gently before using to remove insects and soil. Except for Pansies, Violas, and Johnny Jump-ups (where they enhance the flavor), remove the stamens and pistils from the flowers. If petals appear wilted when you are ready to serve them, try reviving them by submerging them in ice water for a minute or two.
Preserving Fresh Edible Flowers
Edible flowers taste best if you eat them immediately after harvesting. Because this isn't always possible, you can also place the edible parts between damp paper towels in a sealed bag or container and store them in the refrigerator until use. Some species will stay fresh this way for as long as 7-10 days. Long-stemmed flowers may be kept in a vase of water and stored in a cool place if used within a day or two. Short-stemmed flowers will not stay fresh as long and need to be consumed within a few hours of harvesting.
Drying Edible Flowers
Some flowers, like those used for teas, dry well without losing their flavor. This includes chamomile, bee balm, and some rose species. To dry them, harvest flowers in the early morning and hang them upside down by their stems in a dark, well-ventilated area. Use mesh bags or fine screen to dry flowers without stems. Once petals are dry, store them in airtight containers in a cool, dark place.
Safety Tips
Always make sure you're 100% certain that a flower you are about to consume is edible. Consult with a good reference book or trusted resource for accurate identification.
Always introduce edible flowers into your diet slowly and in small quantities to avoid digestive upsets or allergic reactions.
Avoid picking flowers from along roads and ditches, or from areas where they may have been exposed to pesticides or herbicides. Never eat flowers from nurseries, florists, or garden centers. The only way to be certain the flowers you are eating have not been exposed to chemicals is to grow them yourself, or acquire them from someone you know.
In general, people suffering from allergies, asthma, ragweed, or hay fever should avoid consuming edible flowers, especially composite flowers, as the pollen may cause extreme allergic reactions.
Question:
I have several chive plants that have a light purple flower on the end of each top of the plant. Is this flower edible? And if so, can it be consumed raw, such as in a salad? Thank you.
Carol from Beverly, Mass.
Answer:
Carol,
A resounding yes! You can absolutely eat chive blossoms! Chives are members of the Allium family, and just in case you didn't know, many members of this family (including chives, leeks, onions, and garlic) produce edible flowers.
What is so great about chive plants is their versatility in the garden. As an herb, they produce edible stems and flowers. The stems work great as an onion substitute for roasts, vegetables, salads, sandwiches, and soups. The peppery tasting flower petals make an attractive edible seasoning suitable for use in egg, cheese, and fish dishes or when kept intact and used as a garnish.
As a landscaping plant, chives produce bulbous, eye-catching purple, pink, or white blooms (depending on the variety) that sit on top of bright green tufts of decorative, grass-like stems. Chives are also good self-seeders, so if left to their own devices they will fill in a modest area of the garden quickly (under favorable conditions). Chives also exhibit some insect repelling properties, and bees love them. Once established, they aren't too fussy about their growing conditions.
Ellen
Answers
June 18, 2008
0

found this helpful
Yes, you can eat the chive flowers in salads.
June 19, 2008
0

found this helpful
Is it edible...?!!!
Why, that's like asking if the Pope's Catholic!!
Seriously, though, I put them in salads, herb butters, smoked goat cheese, sauces--you name it. They are awesome!
We started out with one plant years ago, and kept dividing it and now we have a hedge--wonderful, wonderful stuff!
July 18, 2008
0

found this helpful
The flowers are a natural part of the chive. They all flower eventually. Yes you can eat them.
Answer

this Question

...