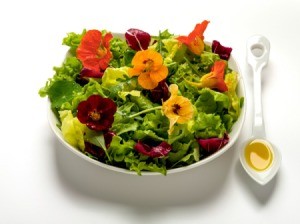 Nasturtiums aren't just a beautiful flower for your garden. They are delicious too! Seeds are readily available just about anywhere they sell garden seeds. Follow the directions on the packet for planting and growing them. Some are bushy, some of them are vines. The packet will tell you which kind they are. They are easy to grow. One year I filled a handy hole in a tree with soil, about 1 cup of it, and put in a couple of nasturtium seeds. They grew and trailed down the tree - very pretty!
Nasturtiums have a definite zing. If you don't like peppery, almost hot flavors, they might not be for you. To me, the heat is very, very mild and pleasant. I like to plant a lot of them to make my garden pretty while enjoying a regular harvest for meals, and leaving plenty of flowers so that I can harvest the seeds.
The leaves are great to chop and throw into a salad, just a couple, or more. Or you can use them whole; just wash and let dry, add a spoonful of filling (leftover chicken, or chicken salad are both good), then roll up like a burrito, or fold like taco. Rolled like a burrito, they make an attractive finger food for an appetizer tray. Since they are smaller than taco shells, the size is ideal for this use. Add a few flowers to the plate to make it extra pretty.
The flowers, usually shades of yellow, orange, and red, are beautiful. Once the dressing is on your salad, throw on some petals, or whole flowers. It makes your salad so pretty!
You can even eat the seeds. Harvest them when they are still a little green, before they start getting wrinkly and hard. Pickled, they are called "poor mans capers", and I like them even better than those pricy capers. They have the vinegary taste with the welcome addition of that zingy, peppery flavor.
If you pickle them, make sure you leave enough pods on the plants for next years planting - using your own seed is free! Just let them mature, and gather them when they fall off the plant.
Take the seeds out of the pods, rinse them, and dry. Some people think they are too strong as is, and put them in a brine for a few days. I don't do that, I love the pickly, peppery, slightly bitter taste. Put them in sterile, hot, quarter-pint jars, leaving enough space at the top for the vinegar mixture. For each jar, use 1/3 cup cider vinegar, 1 teaspoon of sugar, and 1/2 a bay leaf. Bring to a boil. While still hot ladle over the seeds, making sure to cover them, and that there is a half bay leaf in each jar. Screw on the lids. Allow to cool, and then store in the fridge. The vinegar will preserve them for a long time, at least until your next harvest. (people used to preserve things in vinegar for years at a time) Don't be afraid that they will go bad, just keep them under the vinegar, and use a clean utensil everytime you use them.
If you've never tried nasturtiums, go ahead and plant them. If you don't like the taste, you will still have a colorful, pretty addition to your garden.